The US and China: Friends or Foes? – Part I
The US and China are parties to the world's most important bilateral relationship, and this two-part series analyzes the challenges and opportunities confronting two world powers. In the first article, China scholar David Shambaugh presents a litany of issues that bedevil their relations. From President Bush's perspective, three points of contention most likely to take center stage: First is China's reluctance, viewed as a roadblock to UN Security Council action, to condemn Iran's uranium-enrichment program and ambitions for nuclear-weapons capability. The second is China's "hands-off" approach to North Korea's nuclear program. Third is China's push to lock-up global energy supplies, which according to the Bush administration, hikes up prices and intensifies the scramble for resources. On the other hand, China questions motives for amassing US troops in Asia, Bush's nuclear deal with India, and the US not urging Japan to admit atrocities from World War II. And then there is a long list of economic issues. At past Sino-US summits, leaders often engaged in abstract ruminations on the value of the relationship. But there's a new sense of urgency, which according to Shambaugh, could lead to "a real working summit" and real progress for world stability. – YaleGlobal
The US and China: Friends or Foes? – Part I
Confronting a long list of major issues, the presidents might go beyond cant at Washington summit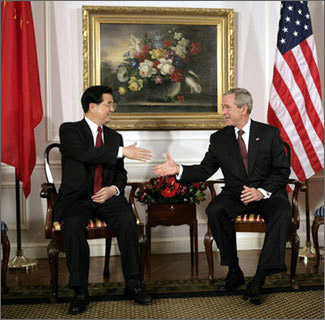 WASHINGTON: Chinese President Hu Jintao's meeting with President George W. Bush at the White House on April 20 will be an opportunity for the two leaders to grapple with the complexities of the world's most important bilateral relationship. While no major agreement may emerge for the two leaders, the opportunity to listen directly to each other's perspectives and coordinate their respective positions on a range of sensitive global and bilateral issues could be an investment in strategic stability and each nation's interests.
The Sino-American summit comes at a propitious moment because the agenda of issues of concern to the two governments has grown much more complicated in recent months. Strategic suspicions of the other's actions and motives grow in each capital. For Washington, in particular, frustrations have recently risen over three issues: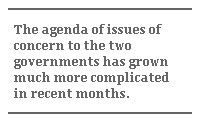 First, the US is frustrated by Beijing's and Russia's foot-dragging in the UN Security Council to condemn Iran's enrichment of uranium and suspected nuclear weapons development program. Condemnation by the five permanent members of the Security Council is the first step towards likely sanctions and other punitive measures – moves resisted by Beijing.
Second, Beijing's refusal to pressure Pyongyang to abandon its declared nuclear weapons program has also frustrated Washington.
Third, the Bush administration perceives an attempt by China to "lock up" global energy supplies as contributing to escalating prices and competition for worldwide resources. The administration is particularly troubled when China signs contracts with countries that Washington views as "rogue" or troublesome states—such as Iran, Myanmar, Nigeria, Sudan, Venezuela and Zimbabwe. In return, China has sold arms to these states and generally shields them from international condemnation
Such moves have not only concerned Washington, but run counter to the administration's desire, as articulated by Deputy Secretary of State Robert Zoellick, for China to become a "responsible stakeholder" in world affairs and global governance. Zoellick argues that China is a full member of the international community, but tends to "free ride," shying away from its appropriate responsibilities as a major power.
In addition to these nettlesome issues on the US-China agenda, the two leaders must tackle other issues as well.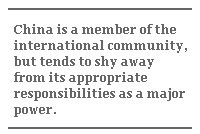 China questions US strategic intentions and military deployments in Asia – viewed by a number of Chinese analysts as an attempt to strategically encircle China. The characterizations of China as a potential adversary in the Defense Department's recently released "Quadrennial Defense Review" and other Pentagon reports fuel this perception in Beijing. President Hu Jintao will likely seek clarification of American intentions on this issue.
China, like other countries, is also concerned about the recent US-India nuclear agreement. While China has accepted India as a declared nuclear weapons state and welcomes its entry into the non-proliferation community of nations, Beijing joins other countries expressing concern about the double-standard precedent set by the US-India agreement. More broadly and not surprisingly, Beijing is wary of US attempts to enlist India in a strategic encirclement of China.
China would also like Washington to do more to encourage Japan to confront the "history issue." Sino-Japanese relations have atrophied badly over this and other issues, and the rift does not serve US interests or East Asian stability. Awaiting Prime Minister Koizumi's successor in September, Beijing would appreciate greater American pressure on Koizumi and his successors to cease their visits to the Yasukuni Shrine and engage in a range of initiatives to deal with other elements of the history issue, such as removing the remains of Class A war criminals from Yasukuni, establishing Truth and Reconciliation Commissions, and revising textbooks.
China and other Asian states view the US, with its official silence on these issues, as complicit in Japanese obstinacy. China is also concerned by the tightening of the US-Japan alliance and US encouragement of a greater regional and global security role for Japan.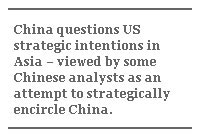 President Hu will also raise the Taiwan issue. While the two sides have cooperated well since Premier Wen Jiabao's visit to the White House in December 2003 to keep the lid on the potential for Taiwan independence, the Chen Shui-bian government on Taiwan continues an incremental push of its independence agenda. The latest provocative step was the March 2006 announcement that the National Reunification Council and its guidelines had "ceased to function."
President Bush will likely reiterate the US commitment to maintaining the "status quo" across the Taiwan Strait, with no unilateral actions on either side to disrupt stability. The president will also likely reiterate the standard mantra of US commitment to the three joint communiqués, as well as the Taiwan Relations Act, the One China Policy, and its desire for the governments in China and on Taiwan to enter into direct dialogue with each other.
While the Taiwan issue has always been the most sensitive issue in the relationship, Beijing and Washington have managed it well in recent years. But regular high-level communication is a necessary condition to successful management, and this meeting offers another chance for both sides to coordinate strategy.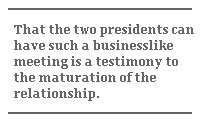 For his part, President Bush is also likely to raise three other issues of great concern in Washington: the trade deficit, intellectual property rights and human rights. The trade deficit reached $203 billion in 2005, as core industries across the country have hollowed out and gone under in the face of outsourcing of production to China. Accordingly, the trade deficit and job loss issue combined have gained great traction in a Congressional election year. Congressional calls for a full floatation of the Chinese currency, and legislative threats to invoke across-the-board 27 percent tariffs on Chinese goods have added fuel to the fire.
The Chinese have tried, in advance of the Hu visit, to reduce the pressure by sending a large commercial delegation on an US buying spree, estimated at $16.2 billion – signing contracts for a range of goods, including 80 Boeing aircraft. In fact, China is now America's fastest growing export market, but this is little noticed as long as the trade deficit with that nation remains America's greatest.
Continuing Chinese infringement on intellectual property rights (IPR) is a closely related issue. On the eve of President Hu's visit, the Joint Committee on Commerce and Trade, a bilateral US-China body, reached agreement on a range of new Chinese actions aimed at stemming and stamping out copyright piracy. The new agreement, like previous agreements, is promising, but it remains to be seen if the Chinese government will actually enforce it.
Human rights in China remain contentious. The last two US State Department annual reports on human rights in China have asserted retrogression, while China now issues its own assessment of US human rights infringements.
Given all that is on their plate, President Bush and President Hu will be lucky to touch briefly on all of these topics. In some past Sino-American summits, the two leaders have been content to engage in a more philosophical exchange about the value of their relationship. They may do so again this time, and that too would be useful, but given the pressing importance of the issues at hand, it is likely to be a real working summit.
That the two presidents can have such a businesslike meeting is a testimony to the maturation of the relationship. President Bush likes to characterize Sino-American relations as "candid, constructive, cooperative, and complex" – this summit is likely to validate his description.
David Shambaugh is professor and director of the China Policy Program at George Washington University, and nonresident senior fellow in the Foreign Policy Studies Program at the Brookings Institution.
© 2006 Yale Center for the Study of Globalization