US Security Aid For Lebanon Withheld: Reuters
The US House of Representatives has launched an impeachment inquiry for suspending military aid to Ukraine, which is fighting Russian aggression at its eastern border. US officials report that the Trump administration is also withholding $105 million in military aid for Lebanon, reports Reuters. Amid protests over corruption, Lebanese Prime Minister Saad al-Hariri resigned on October 29. "Following Hariri's resignation on Tuesday amid huge protests against the ruling elite, U.S. Secretary of State Mike Pompeo urged Lebanon's political leaders to help form a new government responsive to the needs of its people and called for an end to endemic corruption," Reuters reports. The administration advised Congress on the delay, but not the reason. Despite requesting the aid in May, Washington expressed concern about Hezbollah's role in government. Lebanon also hosts large numbers of Syrian refugees, who represent one out of every four people in the country. US officials expressed concern that delaying Lebanon's aid could "pave the way for Russia to move in" and extend influence. Before Hariri's resignation, foreign donors had balked at releasing $11 billion in assistance pledged last year. Government workers and external observers hunt for patterns in distribution of foreign aid. – YaleGlobal
US Security Aid For Lebanon Withheld: Reuters
US officials report a hold on US aid for Lebanon, expressing concern that could pave the way for Russia to extend its influence from Syria into Lebanon
Patricia Zengerle and Mike Stone
Saturday, November 2, 2019
Read the article from Reuters about US foreign aid for Lebanon.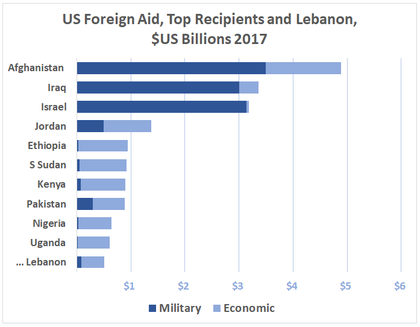 Conditions for aid? (Source: USAID)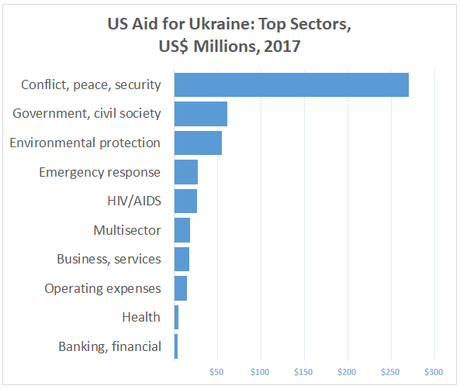 Spotlight on aid: An impeachment inquiry began over the Trump administration suspending US aid for Ukraine, which received about $510 million in 2017, a little more than what Lebanon received: about half was directed to military purposes and  half to economic purposes (Source: USAID)
© 2019 Reuters. All Rights Reserved.