The WTO Can Promote Both Free Trade and Human Rights
As protesters flock to the WTO meeting in Hong Kong along with finance ministers and business leaders, many observers, including Susan Ariel Aaronson and Jamie M. Zimmerman, agree with their claims that the WTO should be seeking relevance beyond just trade liberalization. But a wider focus – on human rights, development and labor – need not require any shift away from the WTO's central purpose. Rules for WTO membership and dispute settlement have already had by themselves a vast positive impact not just on member governments, but their citizens. China is an important example of how WTO requirements of proper channels for redress, intellectual property laws and formal dispute settlement have forced states to grant their own citizens more freedoms in order to join the international multilateral trade system. If the WTO is to appease its many critics, it should consider implementing other measures which do not interfere with trade negotiations but rather account for more factors of the environments where trade decisions are made. If, for instance, human rights were considered to be a decisive element in settling trade disputes as more business-oriented concerns are, many WTO member governments would face considerable pressure to reform. The notion that trade liberalization can spread and safeguard democracy is an old one, dating back to GATT in 1947. With the innumerable benefits to be gained by joining the WTO today, repressive or conflict-ridden countries may have enough incentives to follow that path, if the WTO itself sees fit to make it worth their while. – YaleGlobal
The WTO Can Promote Both Free Trade and Human Rights
Provided the supporters and protesters see the potential it holds
Tuesday, December 13, 2005
WASHINGTON: Representatives from some 150 governments, civil society groups, and businesses will probably not have an altogether pleasant experience at this week's Hong Kong Ministerial. Trade negotiators may not hear the shouts of thousands of protestors in their air conditioned conference venues, but the world will see them and hear their complaints. Many of these protestors will argue that the WTO enhances the power of multinational corporations and industrialized country governments at the expense of the world's poor. This perspective will resonate in many quarters.
Yet neither supporters nor critics of the WTO see the full picture of the trade body's role in the global economy. As WTO detractors argue, the WTO should do more to examine its impact on internationally accepted human rights. Yet these same critics should acknowledge an interesting side effect of WTO membership. Without deliberate intent, the WTO is altering the balance of power between member governments and their citizens.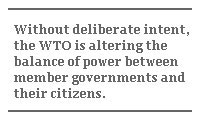 In order to meet WTO obligations, member countries must provide specific economic and procedural rights for their citizens. These rights include property rights, legal guarantees, the right to submit comments about specific trade policies to a national agency, and the right to appeal administrative rulings on trade. Moreover, WTO members must establish these rights in domestic law and ensure they are enforced. Many new members of the WTO have had to develop new laws, regulations, and enforcement expertise to meet these obligations. Moreover, they must apply the same rules and regulations to domestic and foreign market actors. If these governments do not take these steps, their trade policies can be challenged through the WTO system of binding dispute settlement.
China provides a good example of how WTO rules are giving individuals and firms new rights. The WTO requires its members to devise transparent means of protecting and enforcing certain economic rights such as intellectual property rights. When China joined the WTO, it was obligated to establish new laws that accord both its citizens and foreign producers exclusive intellectual property rights (IPR) to copyrights, trade marks, patents, industrial designs, etc… Chinese policymakers now understand that they must protect these rights in order to encourage innovation. Despite that recognition, China has done a poor job of protecting these IPR. In the past, domestic and foreign intellectual property holders could do little more than complain to Chinese authorities. But now both Chinese and foreign intellectual property owners can benefit from the WTO's dispute settlement system. This month the United States, Japanese, and Swiss governments filed a formal request with the WTO for information from China on the country's IPR enforcement efforts. Based on these findings, the US and its allies may challenge Chinese enforcement of IPR under binding WTO dispute settlement mechanisms. If they are successful in that dispute, China would have to change its ways or risk retaliation as well as lower levels of foreign investment.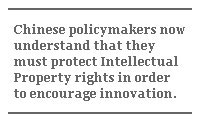 That same binding system of dispute settlement provides another example of how WTO rules can empower citizens with new rights under international law. Developing and middle income countries are using trade disputes to challenge subsidies that undermine the ability of small farmers in the developing world to sell their goods at home and abroad. For example, the Brazilian government successfully challenged US cotton subsidies at the WTO's Dispute Settlement Body. Although the US has not yet reduced these subsidies or compensated Brazilian cotton producers, this decision is already reshaping global cotton markets. Cotton exporters in Chad, Egypt and other countries will directly benefit from this ruling. It may also inspire other developing country governments to challenge such agricultural subsidies. The development organization Oxfam recently noted that developing countries could challenge subsidies for products such as wine, sorghum, and sugar. Over time, if such cases are successful, they may enable more small farmers to obtain their rights to a sustainable livelihood.
WTO rules also require governments to grant producers and consumers new procedural rights. For example, under the WTO Agreement on Safeguards, a WTO member may take a "safeguard" action (i.e., restrict imports of a product temporarily) to protect a specific domestic industry from an increase in imports of any product which is causing, or threatening to cause, serious injury to the industry. Thus, in the past year, when both Indonesia and Jordan initiated safeguard investigations, both governments gave public notice and held hearings where both domestic and foreign interested parties could respond. In addition, the Customs Valuation Agreement requires governments to legally establish the importer's right to appeal a determination of customs value. And, the Agreement on Technical Barriers to Trade requires governments to publish standards and technical regulations and allow interested parties to comment on them. Taken in sum, these rules have prodded WTO members to be more accountable to their citizens. Over time, these rules may expand the circle of individuals who influence trade policy.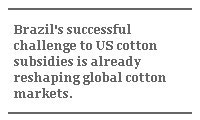 Unfortunately, trade conducted under WTO rules has not always advanced human rights. WTO rules allow many countries to maintain trade distorting subsidies and preferences which may undermine the ability of small manufacturers and farmers to compete in global markets. Moreover, under a WTO waiver, many governments exempt firms from their domestic labor, fiscal and financial rules in their export processing zones. As a result, workers in these zones do not have the same rights as their fellow citizens.
In fact, WTO rules barely mention human rights. While other international organizations such as the UN, the World Bank, and the IMF have recently announced that they would work to ensure that their efforts and activities promoted human rights, the WTO has not made similar statements.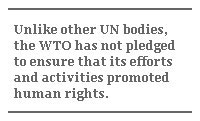 WTO members can do more to advance human rights. They should begin by establishing a working group to examine how WTO rules may affect internationally accepted human rights standards, such as those delineated in the Universal Declaration on Human Rights. This group could study how members might use domestic policies such as procurement rules to advance human rights as they seek to expand trade. For example, some European governments want to include adherence to International Labor Organization conventions as selection criteria for the awarding of public contracts. These countries need to know if these actions violate their WTO obligations. Moreover, this working group could examine if the WTO should develop rules for trade in conflict zones. Finally, the working group should examine how the WTO could ensure that members do not undermine workers rights within export processing zones.
The WTO deserves credit for indirectly providing power to more people. Nonetheless, the members of the WTO must do more to ensure that as entities and individuals trade, human rights are not undermined. The public and policymakers can advance human rights at the same time that we expand trade.
Dr. Susan Ariel Aaronson, the author of four books on trade, and Jamie M. Zimmerman co-direct the Human Rights and Trade Partnership Project at the Kenan Institute, Kenan Flagler Business School, UNC.
© 2005 Yale Center for the Study of Globalization