Battle Against the "Tsunami of Hate": UN
The Covid-19 pandemic has targeted vulnerable populations – initially striking cities while wielding disproportionate effect on nursing homes, prisons and other facilities where employees work in close quarters. These include US meat-processing facilities, often staffed with immigrant labor. Researchers suggest many of the deaths are due to disparities in health care, and the pandemic exposes glaring inequities: limited protective gear, testing, preventive health care, and even food and other basic resources for some communities. UN Secretary-General António Guterres calls for "an all-out effort to end hate speech globally," urging political leaders to be role models and "reinforce social cohesion," educators to "focus on digital literacy," and the media to call out and reject "racist, misogynist and other harmful content." In the speech released on Twitter, Guterres said the "pandemic continues to unleash a tsunami of hate and xenophobia, scapegoating and scare-mongering." Extremists oppose social-distancing, masks and other precautions and label the crisis as a hoax. Guterres implored, "I ask everyone, everywhere, to stand up against hate, treat each other with dignity and take every opportunity to spread kindness." – YaleGlobal
Battle Against the "Tsunami of Hate": UN
The UN secretary-general warns that the pandemic unleashes a tsunami of hate, xenophobia, scapegoating and scare-mongering – and society must resist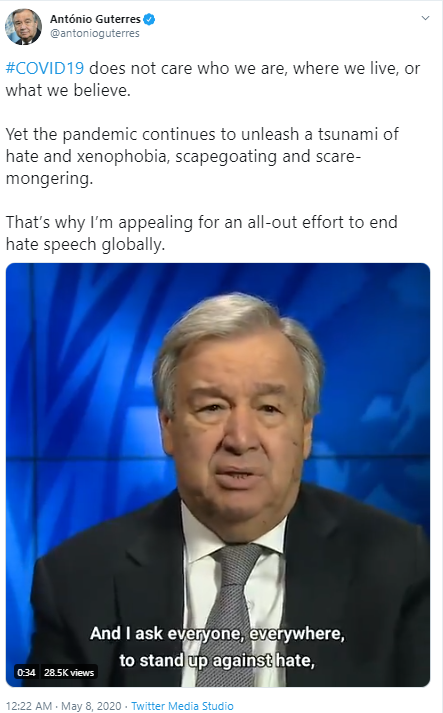 Read the full text of the speech from the UN secretary-general.
Read an article from the Washington Post about how one-third to one-half of US Covid-19 deaths may be associated with nursing homes.
Read an article from CNN about a research study finding a disproportionate impact of Covid-19 on minority communities: "Black Americans represent 13.4% of the American population, according to the US Census Bureau, but counties with higher black populations account for more than half of all Covid-19 cases and almost 60% of deaths."
Read a report from the Lancet on the Covid-19 challenge for prisons around the globe: "International norms stipulate that prisoners should receive the same standard of health care as the wider community. The reality is very different….The UN High Commissioner for Human Rights, Michelle Bachelet, has encouraged governments to release inmates who are especially vulnerable to COVID-19, such as older people, as well as low-risk offenders."
Read about a report from the Houston Chronicle on the demographics of the meat-processing industry: "Immigrant laborers joined the meatpacking workforce in the 1980s and their numbers continue to grow. In the 1980s, about 10 percent of the meatpacking workforce was Hispanic. By 2003, that figure rose to nearly 41.5 percent…. [Workers] are uneducated and work in extremely unsafe work conditions. Nearly every worker in meatpacking plants has injuries. Cutting stations are located close to each other, automated lines move too quickly for workers to keep up, and workers must put in long shifts or fear losing their jobs."
Read about extremists exploiting the pandemic from article from the New York Times and Voice of America.