Brexit Is a Cultural Revolution: Atlantic
Boris Johnson's Brexit withdrawal agreement, similar to one proposed by former Prime Minister Theresa May, won approval in the House of Commons. Members of parliament who feared Britain would lose influence with May's plan have higher expectations for a similar plan proposed by Boris Johnson. "The next weeks still hold a lot of uncertainty; from new elections to a no-deal Brexit, all options theoretically remain on the table," writes Yascha Mounk for the Atlantic. "Nevertheless, it now looks likely that Johnson will take Britain out of both the EU and the single market that stands at its core." Policymakers and regulators will set a framework for the EU-UK relationship along with trade terms and citizen rights even as Johnson's plan requires following "Brussels's lead on key regulations or suffer from tariffs that would inflict serious damage to its economy." Mounk describes Brexit as a civil war over culture – between Remainers, educated cultural elite and supporters of multilateral approaches in wielding influence versus angry populists who view education as indoctrination, fear elite domination and demand British influence on the global stage. Yet Johnson also favors increased investment in education and favors skilled immigrants. He has called for an election for December 12, which requires a two-thirds vote in parliament. Difficulty and polarization signal that compromise is required. – YaleGlobal
Brexit Is a Cultural Revolution: Atlantic
A culture war is underway in the UK, which may be why Boris Johnson's Brexit deal is acceptable, but former Prime Minister's Theresa May's was not
Read the article from the Atlantic about a cultural war in the United Kingdom over Brexit.
Yascha Mounk is a contributing writer at The Atlantic, an associate professor at Johns Hopkins University, and a senior fellow at the German Marshall Fund. He is the author of The People vs. Democracy: Why Our Freedom Is in Danger and How to Save It.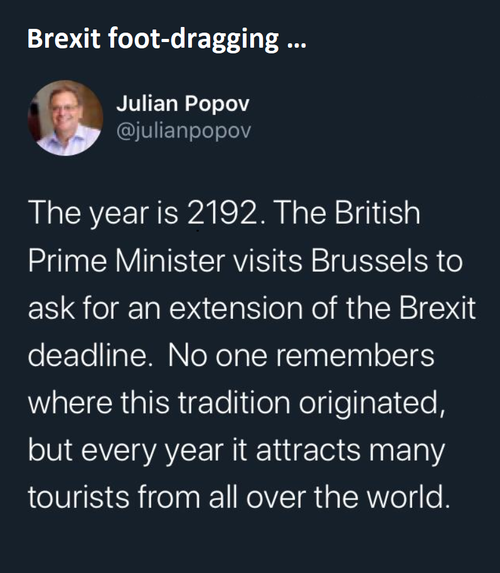 Julian Popov poked fun at Brexit delays on October 19. He is a fellow with the European Climate Foundation and has been an adviser to to the ECF since 2008.
TheAtlantic.com Copyright (c) 2019 by The Atlantic Monthly Group. All Rights Reserved.