China Pushes NATO Together: CNN
NATO members gathered to celebrate the alliance's 70th anniversary in London, but relations seemed rough. NATO, a legacy of the Cold War, originally focused on confronting the Soviet Union and communism. However, with the collapse of the common enemy, NATO member states increasingly disagree about the meaning of its existence. Under President Donald Trump, the United States has questioned the alliance's value. That has led to criticism, especially from French President Emmanuel Macron. He contends that anti-terrorism should remain a common goal for NATO and the US abrupt decision to pull troops out of northeast Syria rebuffed that priority. Despite disputes over the Middle East and climate change as priorities, NATO members largely agree about taking more action to resist China's rising global influence. China presides over the world's second largest economy and also ranks second on defense spending. Many countries are ambivalent about challenging China as a major trade partner. Still, the rising rival in the Pacific rival may replace the former Soviet Union in uniting NATO once again. – YaleGlobal
China Pushes NATO Together: CNN
Rising economic and security challenges from China could focus NATO attention, unifying the alliance and reducing bickering
Read the article about NATO.
James Griffiths is a senior producer for CNN International. He joined CNN in 2015, and writes features and breaking news from across Asia, as well as in-depth analysis of Asian politics and human rights.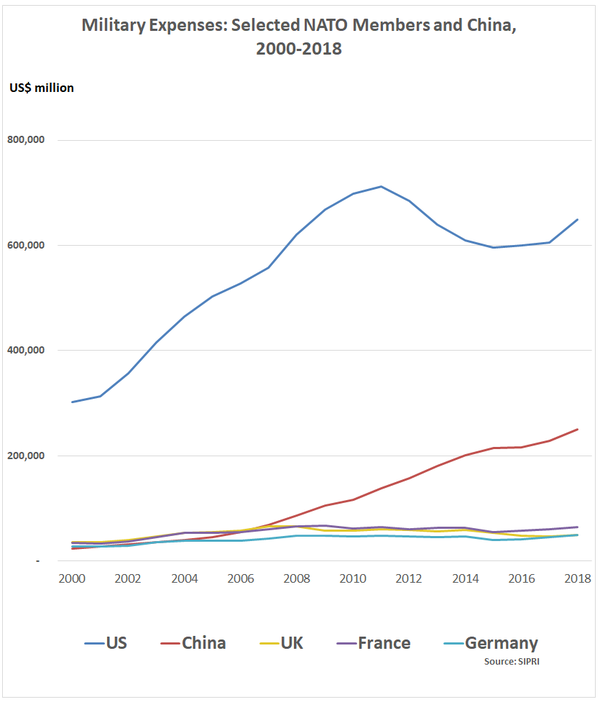 Global security: The US has long led on defense spending, and China's rapid rise during the 21st century alarms the West  (Source: SIPRI)
Arbitrary goal? NATO members are expected to spend 2 percent of GDP on defense, but that target should also account for the health of economies, quality of defense investments and innovations - the 2019 percentages are based on estimates  (Source: NATO and China Power)
© 2019 Cable News Network. Turner Broadcasting System, Inc. All Rights Reserved.