China Warning on US Study: South China Morning Post
The escalating US-China trade war could last for months or years with uncertainty spreading throughout both economies. "China issued an official warning on Monday for Chinese students seeking to study in the United States, amid heightened tensions between the two countries," reports Sarah Zhen for the South China Morning Post. "The Ministry of Education urged students and academics to 'raise their risk assessment' after an increase in visa delays and denials for those who have applied to study in the US." Each side blames the other for the breakdown in negotiations. Zheng reports that students in high-tech fields like robotics must contend with extra scrutiny. A Chinese education official reported that the US denied visas for 13.5 percent of Chinese government-sponsored students, and he contended that espionage accusations against Chinese students creates a hostile and discriminatory environment. More than 350,000 Chinese were in the US for studies this spring. The economic impact for the US of Chinese students is more than $13 billion, reports the Institute of International Education. Top states that host international students include California, New York, Texas, Massachusetts and Illinois. A Chinese researcher predicts that China will set out to improve its education and research programs in response. – YaleGlobal
China Warning on US Study: South China Morning Post
China is the largest source of international students at US universities; amid trade war, Chinese Education Ministry warns citizens to do risk assessment
Read the article from the South China Morning Post about Chinese officials warning students about the uncertainty of studies in the United States.
Sarah Zheng joined the Post as a reporter in 2016. She graduated from Tufts University with a degree in international relations and film and media studies. She reports on China's foreign policy. Additional reporting was provided by Jun Mai and Liu Zhen.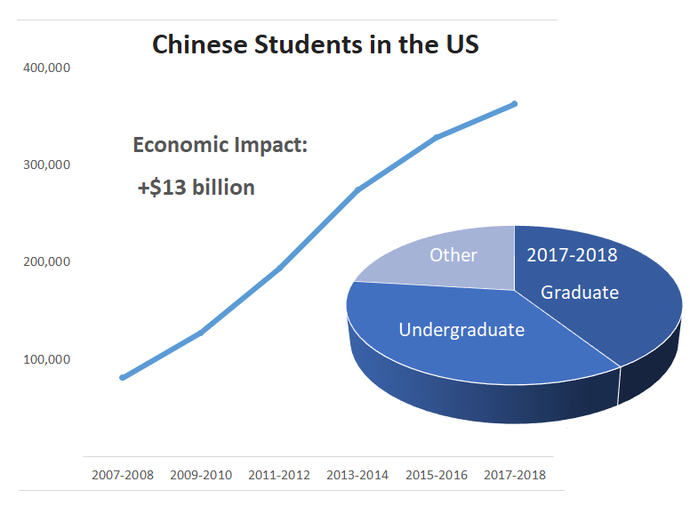 (Source: IIE)
Copyright © 2019 South China Morning Post Publishers Ltd. All rights reserved.