China's Central Bank Saves the Day: Forbes
A trade war and US tariffs have eroded the value of China's currency. The US president announced tariffs and global stock markets declined. The US Treasury Department designated China as a currency manipulator, and China's central bank announced removing about 30 billion yuan, or $4.2 billion, from the Hong Kong market. China denies the currency manipulation charge. "Many emerging market central banks are involved in dumping dollars into the market, or soaking up their own currency in order to keep it within certain, desirable parameters. Brazil and Mexico are notorious for this," explains Kenneth Rapoza for Forbes. Still strength of the dollar persists and the yuan falls. Analysts expect the patterns and trade war to continue with negative impact for the global eocnomy, as devaluation cannot compensate for tariffs. The volatility nudges investors to the safe haven of the US dollar, adding to its value, but also hiking the price of US exports and defeating the purpose of the trade war. Chinese manufacturers and US consumers may soon accept 25 percent tariffs as another cost of doing business. – YaleGlobal
China's Central Bank Saves the Day: Forbes
Trade war's twists: US tariffs contribute to weakening of China's currency, raising the costs of US exports and doing little to reduce the US trade imbalance
Read the essay from Forbes about currency concerns for the United States and China.
Kenneth Rapoza is a senior contributor for Forbes who writes about business and investing in emerging markets.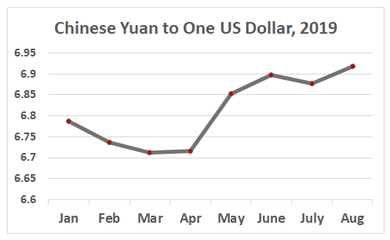 Limit: For now, China acts to keep the yuan below seven per $1 (Source: US Federal Reserve Bank of St. Louis)
© 2019 Forbes Media LLC. All Rights Reserved.