Europe Divided Again: Wall Street Journal
Three decades after the Berlin Wall fell, political divisions are again rising between East and West Europe, reports the Wall Street Journal. "Despite the economic success of German reunification and the triumph of democracy across Eastern Europe, the two regions are drifting apart again in a clash of values that is threatening the cohesion of the Western alliance and the European Union," the article notes. Former East German democracy activists are likewise divided, with some organizing far-left or far-right movements, objecting to liberal values, including immigration Alternative for Germany party or AfD, one of the largest parties in Germany. However, Europe's division is not clear-cut. Some parties in Italy, France, and Austria have rejected immigration and Islam, while voters in East Europe like Slovakia have chosen liberal governments. The division over values exists not only in the government policies but also in the public space. The Polish and Hungarian governments, accused of curtailing press and other freedoms, have been successful at the polls. Polish leaders have urged foreign governments to curtail migration policies for Polish citizens. The EU's failure to resolve the eurozone and refugee crises is a cause for disillusionment, notes the Czech foreign minister. Extreme policies could lead to cuts in EU subsidies. – YaleGlobal
Europe Divided Again: Wall Street Journal
New political divisions are rising in Europe between East and West, aided by democratic processes, but the lines are not clear-cut
Sunday, November 17, 2019
Read the article from the Wall Street Journal about political divides in Europe.
Bojan Pancevski is The Wall Street Journal's Germany Correspondent, covering all aspects of Europe's largest economy and its influence on the rest of the continent and beyond.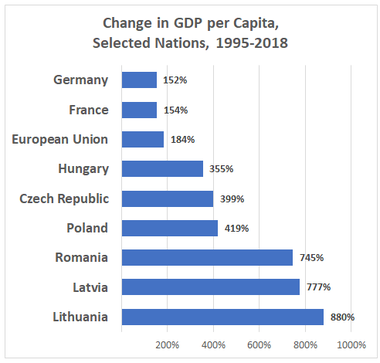 Secret ingredient? Unity delivered prosperity to Eastern Europe since the fall of the Berlin Wall in 1989 (Soure: World Bank)
Copyright ©2019 Dow Jones & Company, Inc. All Rights Reserved.