Global Confidence in the United States Is Shaken
Global confidence in US policies plummeted during the early months of Donald Trump's presidency, according to a Pew Research Center survey. Only Russia showed a marked increase in confidence in the United States under Trump. A median of 22 percent in the survey report confidence in Trump to do the right thing when it comes to international affairs as compared with 64 percent during Barack Obama's presidency. "Criticism of the United States and its president for stubbornly rejecting trade agreements like the Trans-Pacific Partnership or policies that could stem climate change are an indicator of the lack of public will in many countries to have their leaders cooperate with the Trump White House," explains Bruce Stokes, director of global economic attitudes for the Pew Research Center. Stokes points out the steepest decline in confidence in the US president is mostly in advanced economies. Deep and widespread opposition thwarts cooperation on a range of pressing global issues. – YaleGlobal
Global Confidence in the United States Is Shaken
Pew Research Center survey shows marked decline in approval in 35 nations for US President Trump and his policies

WASHINGTON: Though just six months old, Donald Trump's presidency has already had a major impact on how the world views the United States. Trump and many of his key policies are broadly unpopular around the globe. And ratings for the United States have declined steeply in many nations, according to a Pew Research Center survey spanning 37 nations. The rare country where confidence in the nation has grown is Russia, while both Russians and Israelis express greater support for Trump than for his predecessor Barack Obama.
Criticism of the United States and its president for stubbornly rejecting trade agreements like the Trans-Pacific Partnership or policies that could stem climate change are an indicator of the lack of public will in many countries to have their leaders cooperate with the Trump White House.
A median of 22 percent in the survey has confidence in Trump to do the right thing when it comes to international affairs. This stands in sharp contrast to the final years of Barack Obama's presidency, when a median of 64 percent expressed confidence in Trump's predecessor. A median of 64 percent had a positive view of the nation in the last years of the Obama presidency. Today, just 49 percent are favorably inclined toward America.
The steepest decline in confidence in the US president has come mostly in advanced economies. But America's image has also suffered in emerging markets and developing countries, where some of Trump's proposed policies – his promise to build a wall on the Mexican border and efforts to restrict entry into the United States from Muslim-majority countries – are particularly unpopular.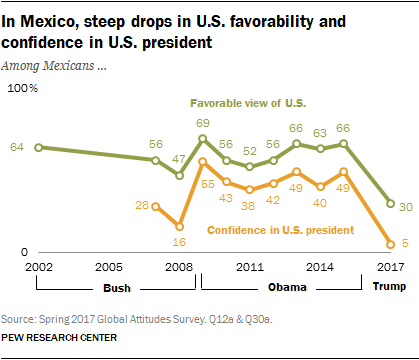 A majority of Israelis, 56 percent, of Israelis and 53 percent of Russians – up from 11 percent – have confidence in the U.S, president. In Europe a median of just 18 percent has confidence in Trump to do the right thing regarding world affairs. The Canadians at 22 percent, Japanese at 24 percent and Australians, 29 percent, are barely more confident.
The president is not that much more popular in the rest of the world.
A median of 14 percent in Latin America express confidence in him. This includes 5 percent in Mexico, 12 percent in Chile and 13 percent in Argentina. In comparison, 49 percent of Mexicans had confidence in then Obama in his last year in office, along with 60 percent of Chileans and 40 percent of Argentines. Trump's ratings are far closer to some of those given President George W. Bush in his last year: 16 percent in Mexico, 7 percent in Argentina.
Such disapproval of the US president in Latin America may, in part, be due to Trump's policy to build a wall along the border between the United States and Mexico to stem the flow of undocumented immigrants. A median of 83 percent of Latin Americans disapproves of such plans. Not surprisingly, this includes 94 percent of Mexicans along with 89 percent of Colombians and 86 percent of Chileans. Moreover, Latin Americans express harsh judgments of Trump's personality. A median of 82 percent suggests he is arrogant, 77 percent suggest he is intolerant and 66 percent state he is dangerous.
Low confidence in Trump has marred the US image in Latin America: 47 percent report a favorable view of Uncle Sam, reflecting a 36 percentage point decline in the US image in Mexico since the end of the Obama administration, a 29-point falloff in Chile and a 23-point drop in Brazil. This relationship between the image of the US and confidence in the president is sharply delineated in Mexico.
With the advent of the Obama era, faith in the US president and favorable views of the country rose in parallel. Now they have declined together.
A similar pattern is seen in sub-Saharan Africa, where a median of 50 percent has confidence in Trump. This includes 26 percent in Senegal and 39 percent in South Africa, while overall 56 percent in the region have a favorable view of the United States. Confidence in the US president is down 51 points in Senegal, 33 points in Ghana and 27 points in Tanzania. And although more than half the public in Ghana, Senegal and Tanzania expresses a positive view of America, such sentiment is down 30 points in Ghana, 25 points in Senegal and 21 points in Tanzania. 
Much of this decline may be attributed to opposition to proposed Trump administration policies.  Only roughly a third of the publics in sub-Saharan Africa favors Trump's proposals to pull out of international climate change agreements, restrict entry to the US from some Muslim-majority countries and withdraw from major trade agreements. Notably, despite lukewarm feelings about Trump's policies, a median of 61 percent of sub-Saharan Africans views Trump as a strong leader and 51 percent agrees he is qualified to hold his office.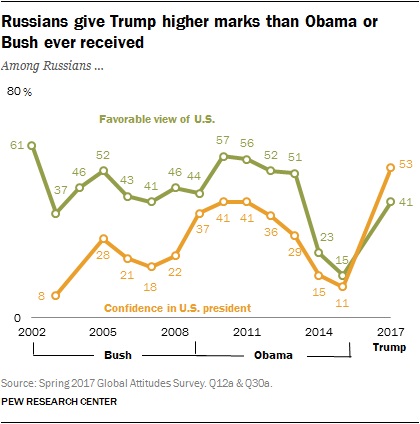 Views of Trump and the US are low in the Middle East, except for Israel, where 56 percent have a positive opinion, up 7 points over Obama. In most of the region, views of America and its leader declined sharply during the Bush era and did not recover with Obama. Just 9 percent of Jordanians, 11 percent of Turks and 15 percent of Lebanese see Trump in a positive light. This is down 34 points in Turkey and 21 points in Lebanon from assessments of Obama. Much of this may be due to strong opposition to Trump's proposed restrictions on the entry into the US of people from Muslim-majority countries: 96 percent of Jordanians and 88 percent of Lebanese disapprove of such plans.  But Trump's image has done little to harm views of the United States in Lebanon and Jordan, where US favorability is low and relatively unchanged compared with the Obama era.
Only in Asia do publics in emerging and developing countries have a mixed view of the United States and its new president. In India, 40 percent have confidence in Trump, down 18 points from their view of Obama last year, and 45 percent voice no opinion, so Trump remains an unknown quantity for many on the sub-continent. Only 23 percent of Indonesians have faith in the US chief executive, down 41 points from their view of Obama, who spent a portion of his boyhood in the country. Views of the US are down 14 points in Indonesia and 7 points in India.
At the same time, Trump is relatively popular in both the Philippines, at 69 percent and Vietnam, 58 percent, both which give him his highest rating among the 37 nations surveyed. However, these assessments are lower than views of Obama, down 25 points in the Philippines and 13 points in Vietnam. Still, Filipino and Vietnamese judgments of Trump may be buoying opinions of the United States: 84 percent of Vietnamese and 78 percent of Filipinos have a favorable opinion of America, the highest rating for the nation in the 2017 Pew Research Center survey.
The nation's image and global confidence in the US president suffered under the Bush administration after 2000, but recovered during Obama's tenure. The Trump era began on a sour note throughout much of the world, including emerging and developing nations. During the Bush years, opposition to the United States and its leader often made it difficult for leaders of other nations to work with the United States on issues such as Iraq. So far, possibly aware of their citizens' wariness of the Trump administration, many leaders are proceeding with their own plans on climate change, trade, and conflicts in Syria, Afghanistan and North Korea. 
Bruce Stokes is director of global economic attitudes at the Pew Research Center. 
Copyright © 2017 YaleGlobal and the MacMillan Center