India's Parliament Passes Citizenship Bill: NYT
India's parliament has approved a Citizenship Amendment Bill, expected to be signed into law soon.The bill "uses religion as a criterion for determining whether illegal migrants in India can be fast-tracked for citizenship" and "favors members of all South Asia's major religions except Islam," reports the New York Times. Muslim leaders regard the measure as discrimination; up to 15 percent of the population is Muslim. Opponents of the legislation in India and international rights groups have called the bill a major blow to India's long-held commitment to a secular democracy." Jeffrey Gettleman and Suhasini Raj explain how India's current government under Narendra Modi increasingly emphasizes Hindu identity, a strategy rejected by the country's founding leaders. Earlier this year, India required residents of Assam to produce proof of India residency since 1971, a move that could make as many as 2 million people stateless, some of whom lived in India their entire lives. With the new bill, Hindus, Christians, Sikhs and other religious minorities – but not Muslims – could pursue citizenship. The bill has triggered protests and concerns about mass detentions. The US Commission on International Religious Freedom has urged sanctions on Indian leaders behind the measure. – YaleGlobal
India's Parliament Passes Citizenship Bill: NYT
India's law fast-tracks citizenship for six religions, but not Islam – Indian Muslims say the bill is discriminatory, and protests spread
Jeffrey Gettleman and Suhasini Raj
Thursday, December 12, 2019
Read the article from the New York Times about  India's citizenship measures based on religion.
Jeffrey Gettleman is the South Asia bureau chief, based in New Delhi. He was the winner of a Pulitzer Prize in 2012 for international reporting. 
Suhasini Raj has worked for over a decade as an investigative journalist with Indian and international news outlets. Based in the New Delhi bureau, she joined The Times in 2014. 
Read about the sanctions urged by the US Commission on International Religious Freedom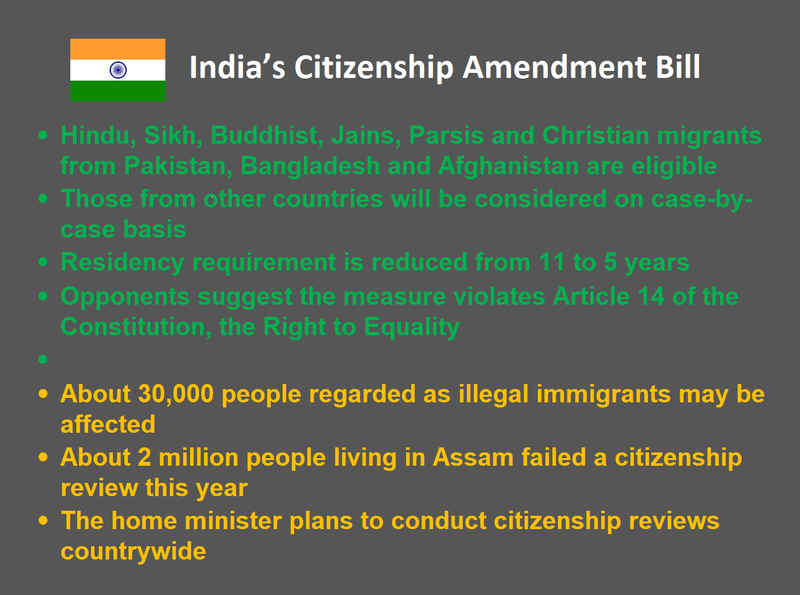 (Source: Economic Times)
© 2019 The New York Times Company