Iran Strikes Iraq Bases: Washington Post
Iran launched more than 10 ballistic missiles at two Iraqi bases with US military personnel, described as retaliation for the death of Iranian commander Qasem Soleimani at US hands. Analysts describe the missile attack as restrained, though Iran warned it would meet a US response with additional attacks, including countries hosting US bases. Iran claimed casualties; the United States and Iraq have yet to issue an official report. The US has 5,000 soldiers in Iraq, with 10,000 more sent to the region in recent days. The targeted killing of Soleimani put the region on alert, uniting Iran while dividing the Middle East, the United States and its allies: Opposition leaders in US Congress question whether Soleimani posed an imminent threat and plan resolutions requiring the president to seek congressional authorization for additional attacks. The Iraqi Parliament, not including all members, approved a nonbinding resolution calling for US troop removal; the US president suggested that could subject Iraq to sanctions. The US Department of Defense sent an unsigned letter suggesting that troop "repositioning" would begin before explaining the message was sent in error. "[T]he roots of the conflict reach back to 2018, when Trump withdrew the United States from an international nuclear deal with Iran, which the Obama administration brokered, calling the pact poorly negotiated," reports the Washington Post. "Instead, [Donald] Trump opted for a 'maximum pressure' campaign against Tehran, which included the reapplication of harsh sanctions. Administration officials said the measures were designed to bring Iran to the table for a new nuclear deal and curb broader malign behavior by Tehran in the Middle East, including its support of Houthi rebels in Yemen." Soon after the missile launches, a Ukrainian International Airlines passenger flight crashed soon after takeoff in Tehran. Multiple countries are banning flights over the troubled area. – YaleGlobal
Iran Strikes Iraq Bases: Washington Post
Middle East already in conflict goes on alert: Iran strikes Iraq bases with US troops; shortly afterward, Ukrainian Boeing jet crashes in Tehran, killing 176
Karen DeYoung, Paul Sonne and Dan Lamothe
Wednesday, January 8, 2020
Read the article from the Washington Post about Iran firing missiles at bases in Iraq.
Karen DeYoung is associate editor and senior national security correspondent for The Post. In more than three decades at the paper, she has served as bureau chief in Latin America and in London and as correspondent covering the White House, U.S. foreign policy and the intelligence community.
Paul Sonne covers the U.S. military and national security. He previously reported for the Wall Street Journal from Moscow, London and Washington.
Dan Lamothe joined The Washington Post in 2014 to cover the U.S. military and the Pentagon. He has written about the Armed Forces for more than a decade, traveling extensively, embedding with each service and covering combat in Afghanistan numerous times.
Also, read the article about a Ukrainian passenger jet crashing in Tehran. UPDATE: Reports suggest an Iranian missile brought down the passenger jet.
Also, read the article from CNBC on the Iraq parliament approving a resolution to "work toward" removing US troops from Iraq and a US Department message sent in error.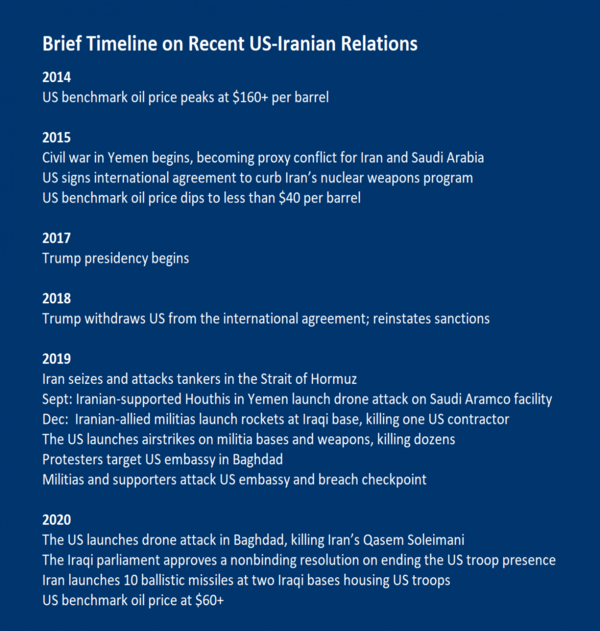 (Source: Macrotrends, Washington Post)
© 1996-2020 The Washington Post