Jammu and Kashmir, India and China: Diplomat
India's change in status for Jammu and Kashmir, a lockdown and dividing the state into two union territories suggest a strategy toward China, argues Samanvya Hooda for the Diplomat. "Undivided Jammu and Kashmir (J&K) consists of the erstwhile Indian state of J&K, Pakistan-administered Kashmir, and Aksai Chin, controlled by China," he explains. "China also controls the Shaksgam Tract, which was ceded by Pakistan to China by the Boundary Agreement of 1963." He explains that China has occupied Aksai Chin as part of the Xinjiang Uyghur Autonomous Region since the 1962 Sino-Indian War. China responded to India's move in Kashmir, suggesting India's actions undermine territorial sovereignty. Hooda questions suggestions by analysts that division of Jammu and Kashmir could give India greater flexibility in separate dealings with China and Pakistan, and he points out that China has investments in Pakistan-administered Kashmir. India signals plans for new policies for two sensitive areas: the Line of Control between India and Pakistan and the Line of Actual Control between China and India. These could include, in Hooda's words, following China's lead and taking "advantage of the ambiguity in bilateral agreements" and "exert pressure" on key infrastructure. – YaleGlobal
Jammu and Kashmir, India and China: Diplomat
Bifurcation of Jammu and Kashmir: India's Modi government breaks from long-accepted norms in complex strategic issues involving China and Pakistan
Read the article from the Diplomat about India changing the status of Jammu and Kashmir.
Samanvya Hooda is a research assistant at the Institute of Chinese Studies, New Delhi. His research interests lie in security studies, military history, and India's foreign policy.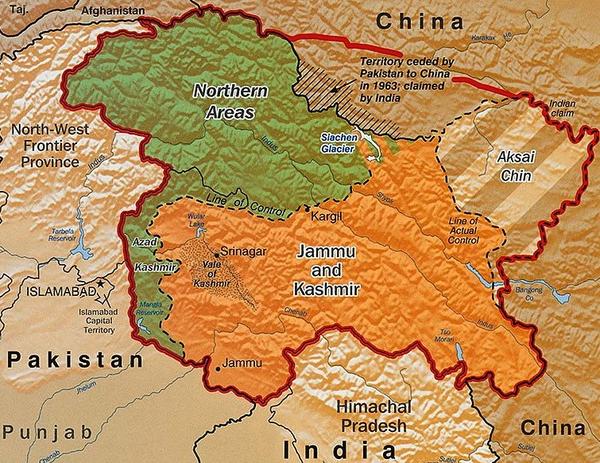 Dividing lines: The green and orange portions of the map show the Line of Control in Jammu and Kashmir between Pakistan and India and the Line of Actual Control between India and China (Source: US Central Intelligence Agency and Wikimedia)
© 2019 The Diplomat. All Rights Reserved.