The Kyrgyz Presidential Elections: Peaceful Transfer With 5 Caveats
Voters in Kyrgyzstan head to the polls to elect a new president on October 15, a historical event for Central Asia as the first peaceful transfer of power since 1991 when the Soviet Union dissolved and the five nations gained independence. "Yet, this is not a story about democracy on the rise," writes Michał Romanowski with the German Marshall Fund of the United States. "Kyrgyzstan, once dubbed a beacon of democracy in the region, has slumped towards an autocratic regime, where the government increasingly controls social and political life. Similarly to its local neighbors, power is concentrated in the hands of a narrow circle of people; corruption is pervasive, and media are increasingly oppressed." Romanowski offers five observations regarding this election: Kyrgyz voters care deeply about politics and their leaders, but authorities have already narrowed the pool of candidates. Lack of an independent judiciary system allows authorities to repress critics in the media and the opposition. Russia is influential but so far has not demonstrated preference for a candidate. And regardless of which candidate wins, landlocked Kyrgyzstan must carefully balance relations with Central Asian neighbors and the nearest behemoths, China and Russia. – YaleGlobal
The Kyrgyz Presidential Elections: Peaceful Transfer With 5 Caveats
Voters in Kyrgyzstan select a new president – the first peaceful transfer of power for Central Asia since 1991
Thursday, October 12, 2017

WARSAW: With the presidential elections slated for October 15, Kyrgyzstan is on the eve of a political reshuffle. Incumbent President Almazbek Atambayev, appointed in 2011, is constitutionally barred from running for a second term. He is about to leave the scene and do something no leader in Central Asia has done in modern history – peacefully transfer the power and retire.
Yet, this is not a story about democracy on the rise.
Kyrgyzstan, once dubbed a beacon of democracy in the region, has slumped towards an autocratic regime, where the government increasingly controls social and political life. Similarly to its local neighbors, power is concentrated in the hands of a narrow circle of people; corruption is pervasive, and media are increasingly oppressed.
Having experienced two political coups in little more than a decade, Kyrgyzstan has not been treated gently by history. Those with the decision-making authority in the country, including President Atambayev, often abuse their positions, and it seems their major objective is to monopolize the power and not delegate it for the common good.
The two frontrunners in the presidential race – former Prime Minister Sooronbai Jeenbekov and multimillionaire and leader of the opposition coalition Omurbek Babanov – appeal to different portions of the electorate. Jeenbekov, a protégé of Atambayev, has not been shy about promoting the candidacy. Babanov is doing what he can to mobilize young citizens, positioning himself as Kyrgyzstan's best chance at reform.
Here are five key point to keep in mind as the Kyrgyz head to the polls:
1. Kyrgyzstan as special case: The vote is set to be the first since the collapse of the Soviet Union in 1991 in which a president in Central Asia will freely hand over his office. Standard regional practice has previously been either to secure subsequent terms with dubious 90-percent electoral support as in the case of Kazakhstan and Tajikistan. Or, let go of power only as a result of a heart attack as in Turkmenistan and Uzbekistan.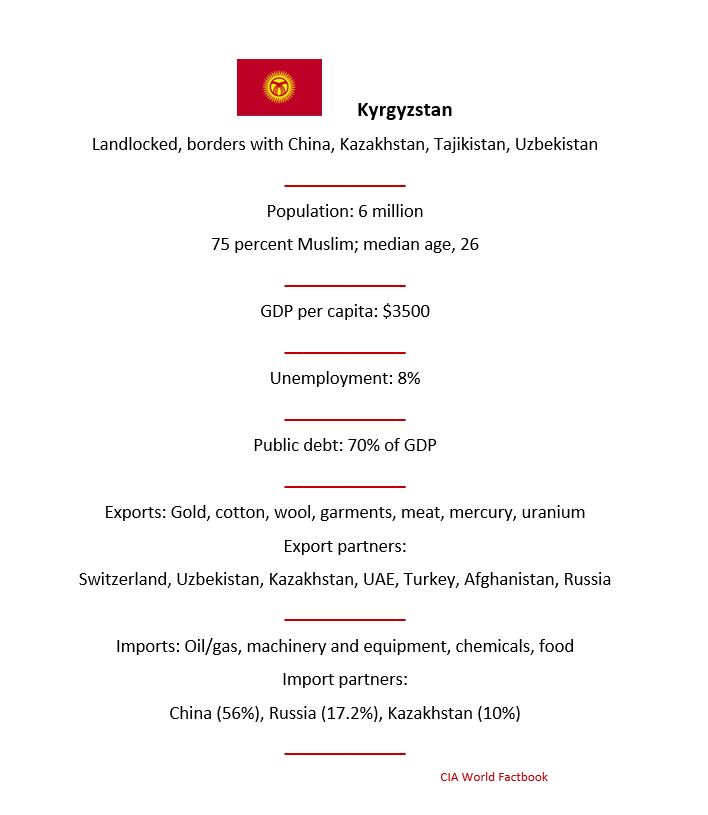 Kyrgyzstan, with about 6 million people, has long been regarded as a black sheep in the Central Asian fellowship.  Twice during the past 12 years the Kyrgyz people have demonstrated their determination to go against the political current and directly influence politics in their country. In 2005 and 2010, two autocratic leaders were ousted from power by national revolutions. However, this created only limited impact on other Central Asia regimes where politicians had seemed to be glued to their offices and societies were too passive to bring about any change.
 For elections in Kyrgyzstan, one must expect the unexpected. Citizens have proved to those in power that in the end they call the shots and authorities will be held accountable for their actions. The attitude promotes political pluralism and a substitute for real electoral competition.
2. Russia as key: For more than two decades, Central Asian elites have looked to Moscow for patronage and most importantly for financial support. Over time, the Russian money tap directed at the region has significantly dried, but still the Kremlin exerts influence over the Central Asian ruling castes. Utilizing high level meetings and state media propaganda popular across the region, Moscow has sufficient leverage to tip the balance in favor of a preferred candidate.
When meeting with his Kyrgyz counterpart on September 29th, Russia's Prime Minister Dmitry Medvedev expressed hope for continuity in relations between the countries. Russia has so far shown no strong preference on candidates for this election, but whoever wins must reckon with the former big brother. In addition to close trade links, Moscow owns the gas infrastructure in Kyrgyzstan and maintains a strong presence on the ground through the Kant military base, located 20 kilometers from the capital.
3. Opposition not welcome:  Repression against regime critics has been on the rise since 2015. Coupled with the lack of an independent judiciary system, this is eroding both domestic politics and the country's media landscape.
Today, politically charged trials are bread and butter in the Kyrgyz arbitrary structure. Two opposition figures, including Omurbek Tekebayev, the leader of the Fatherland party in the parliament, have been sentenced to lengthy prison sentences on corruption charges. Tekebayev, who intended to run in the presidential elections, was thus smoothly cut from the competition.
Further, access to free media is becoming increasingly limited as online outlets, and independent television broadcasters like Sentyabr, or September, a private channel are shut down by the state on extremism charges. In recent years journalists, from the news website Zanoza.kg for example, have also been fined with absurdly high judgments obliging them to pay thousands of dollars in damages to Atambayev for criticizing him.
4. State assistance: As campaigning picks up pace in Kyrgyzstan, both state and private financial resources are allocated to promote presidential candidates. "In-kind" support, however, is more precious than gold. 
Jeenbekov, the pro-government contender, has received full administrative assistance on his way to claim the office. There are reports of state employees being pressured to vote for candidates from the ruling party. After a deputy prime minister openly agitated for Jeenbekov, the Central Election Committee issued a mild verbal reprimand. He also received public support from the country's former chief mufti, leader of all Muslims in Kyrgyzstan, even though the electoral code clearly forbids religious clerics from advocating for political figures.
5. International arena:  Given Kyrgyzstan's political gravity and the dependence of its economy on gold exports, remittances from labor migrants in Russia and foreign aid, sovereign foreign policy is not easily pursued from Bishkek. The same could be said about other Central Asian countries, however Kazakhstan, Turkmenistan, and Uzbekistan are rich in mineral deposits, providing them with some upper hand in the international markets.
For more than a decade Kyrgyzstan has balanced itself delicately between Moscow and Beijing. China has grown to be the biggest investor and creditor in the country, advocating for a rejuvenation of the Silk Road between Europe and Asia. Russia for its part strives to tie Kyrgyzstan more firmly to itself through the Eurasian Economic Union, security cooperation and management of Bishkek's foreign debt.
These powerful partners will stay no matter who wins the elections. And the multi-vector foreign policy of Kyrgyzstan, taking into account the country's geographical position and its anemic economy, is likely to be continued.
Michał Romanowski is an expert in Eurasian affairs at the German Marshall Fund of the United States. 
Copyright © 2017 YaleGlobal and the MacMillan Center