Not Disclosing ESG Data: Wall Street Journal
Investors prefer hearing about environmental, social and governance impacts from companies rather than surprise announcements from the media or government investigations. The term ESG investments was coined in 2005. "[W}hile companies that don't disclose environmental and social data may not always lose investors, they are more often being passed over by new investors, in favor of firms with better disclosure practices, ESG investors say," reports Maitane Sardon for the Wall Street Journal. Major institutional investors and firms that oversee trillions in assets send out standardized forms requesting specific details on carbon dioxide emissions, use of freshwater, deforestation as well as labor practices or waste management with follow-up when companies fail to respond. "Still, plenty of companies have resisted disclosure pressure from investors," Sardon concludes. "Some say they aren't able to collect useful information, for instance, while others say environmental and social issues don't affect their financial performance. Midsize and small companies generally lag behind their larger peers in terms of disclosure because they are less likely to have resources." Companies are more forthcoming on environmental and cybersecurity matters than on labor. Investors do not want horrible surprises on any issue. – YaleGlobal
Not Disclosing ESG Data: Wall Street Journal
Investors demand more data; companies find it's better to disclose environmental and social impact data before activist investors push them to do so
Sunday, September 29, 2019
Read the article from the Wall Street Journal about companies facing investor backlash when they do not release environmental, labor, governance, supply chain and other social impact data quickly.
Maitane Sardon is a Wall Street Journal reporter in Barcelona.
Also, read the Global Sustainable Investment Review 2018 from the Global Sustainable Investment Alliance:
"Sustainable investing is an investment approach that considers environmental, social and governance (ESG) factors in portfolio selection and management. For the purpose of this global report and for articulating our shared work in the broadest way, GSIA uses an inclusive definition of sustainable investing, without drawing distinctions between this and related terms such as responsible investing and socially responsible investing. This report primarily uses the term sustainable investing.
"Sustainable investment assets are continuing to climb globally, with some regions demonstrating stronger growth than others within their local currencies….
"The largest sustainable investment strategy globally continues to be negative or exclusionary screening."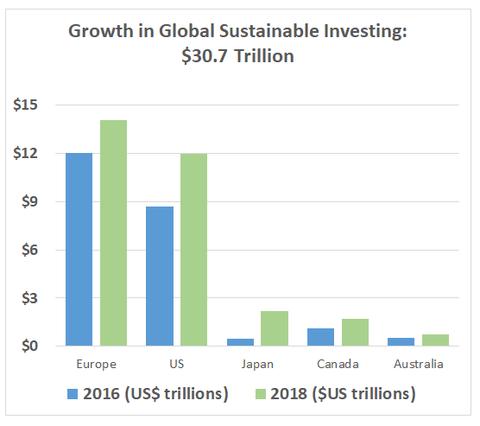 (Source: Global Sustainable Investment Review 2018)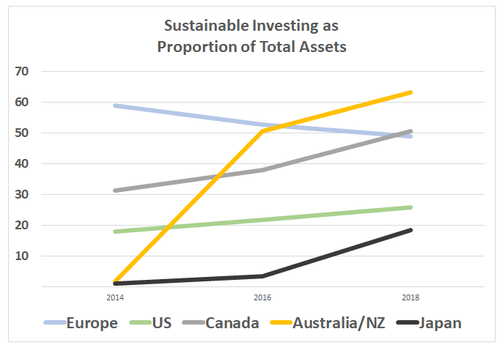 The report suggests Europe's decline in sustainable investments is partly due to stronger standards and definitions (Source:  Global Sustainable Investment Review 2018 )
© 2019 Dow Jones & Company Inc. All Rights Reserved.