Second Wave of COVID-19 Cases: WSJ
China reports a slowing of COVID-19 with strict quarantine measures. Singapore, Taiwan and Hong Kong, which share strong ties with China, reported infections early on, yet relied on less rigid measures and now report new waves of infections, assumed to be from incoming travelers. "We are not safe in any place until everyone all over the world is safe," explained Paul Anatharajah Tambyah, president of the Asia-Pacific Society of Clinical Microbiology and Infection. The world has had almost 200,000 confirmed cases. Multiple nations urge citizens to curb travel, and some like France, Italy and Spain impose nationwide quarantines with tests becoming more available. Countries like the United States have sped up testing, allowing states to approval COVID-19 test kits developed by hospitals and universities. Countries began closing borders and imposing mandatory quarantines for travelers, especialy from nations with high case counts and those not providing comprehensive testing. Taiwan has closed borders to foreigners, and the European Union has closed external borders. Hong Kong requires quarantine for all arrivals from foreign countries for two weeks. Airlines are cancelling flights as social media users worldwide roundly condemned unnecessary travel during a pandemic. – YaleGlobal
Second Wave of COVID-19 Cases: WSJ
Travelers bring back new risks of infection, resulting in a second wave of COVID-19 cases for Singapore, Taiwan and Hong Kong; Europe closes borders
Read the article from the Wall Street Journal about a second wave of COVID-19 cases in some locations.
Liza Lin covers Asia technology news for the Wall Street Journal, focusing on surveillance, privacy and data collection. Joyu Wang is a social media editor for The Wall Street Journal and is based in Hong Kong. She graduated from the University of Missouri, where she studied journalism and linguistics.
Also read about Europe closing external borders to travelers from the Washington Post: "Modern Europe is built on the idea of binding countries together by stripping away borders. But in the space of just a week, the coronavirus pandemic has led countries to reimpose hard borders across the continent, challenging the European Union's basic model in ways that may reverberate for years."
(Source: Wall Street Journal and Johns Hopkins CSSE)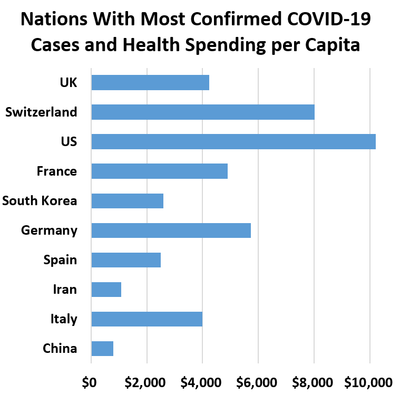 Variations:  Investment in health-care spending depends on factors such as system types and median age - spending amounts are from various sources and years between 2014 and 2016  (Source: WHO, OECD and Macrotrends)
Copyright ©2020 Dow Jones & Company, Inc. All Rights Reserved.