Sinn Féin Gains in Irish Election: AP
UPDATED: Sinn Féin won nearly 25 percent of the vote in Ireland's February 8 election. "In a surge that upended Ireland's traditional two-party system, the left-wing nationalist party beat both Fianna Fail and Fine Gael, the centrist parties that have governed Ireland since it won independence from Britain a century ago," reports the Associated Press. "Sinn Fein's left-wing proposals for tackling Ireland's housing crisis and creaking healthcare system proved a powerful draw for young voters in a country that is still dealing with aftershocks of the 2008 global financial crisis, which hammered its debt-driven 'Celtic Tiger' economy." Ireland relies on a proportional-representation system, and all parties must negotiate a coalition government, and Fianna Fáil eventually accumulated more votes. The article concludes, "Brexit looks likely to nudge Northern Ireland's economy closer to that of its southern neighbour, and could increase pressure for a vote on unification," Sinn Féin's platform supports reunification with Northern Ireland, with a call for a vote within five years. – YaleGlobal
Sinn Féin Gains in Irish Election: AP
In Ireland's election, Sinn Féin surprises by taking a large share of the vote, but centrist parties Fianna Fáil gains more in the final tabulation
Jill Lawless And Nicolae Dumitrache
Tuesday, February 11, 2020
Read the article from Associated Press about the results in Ireland's election.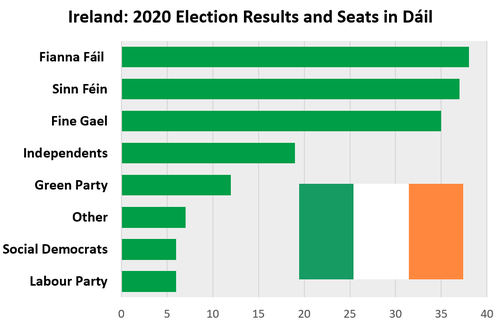 (Source: BBC News)
Also read "What Sinn Féin's Election Victory Means for Ireland" from New York magazine.
(Source: Jonah Shepp, New York)
All of the content elements displayed and/or downloadable on the Associated Press site, including photographic images, graphic images, text, captions, video, audio-visual files, digital files and software (collectively, the "Content"), and all of the features of this Site, including this Site's designs, trade dress, logos, pages, audio and/or video material, text, data, information, software, data compilations, digital downloads, icons, html code, xml code and products or services obtained from this Site (together with the Content, collectively, the "Site Elements") is the exclusive property of AP or its licensors.