Trump, Bolton and Pressure on Ukraine: NY Times
US Senators have finished questioning house managers and the defense team in the impeachment trial of Donald Trump. Democrats called for witnesses, especially John Bolton after other witnesses described him as angry about attempts to investigate a political rival of Trump. Bolton, a far-right Republican, wrote a book to be published in March and describes Trump asking for help with his campaign to gather evidence in Ukraine on presidential candidate Joe Biden: "Trump gave the instruction, Mr. Bolton wrote, during an Oval Office conversation in early May that included the acting White House chief of staff, Mick Mulvaney, the president's personal lawyer Rudolph W. Giuliani and the White House counsel, Pat A. Cipollone, who is now leading the president's impeachment defense," reports the New York Times. The claim: Trump told Bolton to call Ukraine's president and arrange a meeting with Rudolph Giuliani, his personal attorney. Bolton did not make that call left the White House on September 10, the day before the administration lifted its block on military aid for Ukraine. "The account in Mr. Bolton's manuscript portrays the most senior White House advisers as early witnesses in the effort that they have sought to distance the president from. And disclosure of the meeting underscores the kind of information Democrats were looking for in seeking testimony from his top advisers in their impeachment investigation, including Mr. Bolton and Mr. Mulvaney, only to be blocked by the White House." Trump seeks acquittal prior to the Super Bowl on February 2 and the State of the Union address February 4. The report emerged shortly before the trial resumed today. – YaleGlobal
Trump, Bolton and Pressure on Ukraine: NY Times
Bolton book: Trump asked former US national security adviser to pave way for meeting between Giuliani and Ukraine's Zelensky in front of other advisers
Maggie Haberman and Michael S. Schmidt
Read the article from the New York Times about the former US national security advisor claiming the US president asked for help in gathering evidence in Ukraine on a political rival. 
Maggie Haberman is a White House correspondent. She joined The Times in 2015 as a campaign correspondent and was part of a team that won a Pulitzer Prize in 2018 for reporting on Donald Trump's advisers and their connections to Russia. Previously, she worked at Politico, The New York Post and The New York Daily News.
Michael S. Schmidt is a Washington correspondent covering national security and federal investigations. He was part of two teams that won Pulitzer Prizes in 2018 — one for reporting on workplace sexual harassment and the other for coverage of President Trump and his campaign's ties to Russia.
Peter Baker and Kenneth P. Vogel contributed reporting.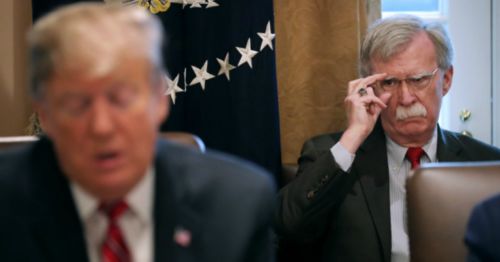 US President Donald Trump and former National Security Adviser John Bolton
© 2020 The New York Times Company