Turkey-Syria Tensions Escalate: Al Jazeera
The Syrian government's indiscriminate air raids, backed by Russian airpower, aim to crush opposition forces in Idlib. The attacks killed more than 30 Turkish troops. "The toll is the deadliest suffered by the Turkish army since it intervened in Syria in 2016 and is raising fears of a direct confrontation between Turkey and Russia on the battlefield," reports Al Jazeera. By one rescue worker's report, the "government air raids on Idlib's second largest city - Maaret al-Numan - are so severe his colleagues and medical relief groups are not able to access the area." More than 500,000 people have fled Idlib in recent weeks. Jens Stoltenberg, NATO's secretary-general, calls for Russia and Syria to stop the offensive. Greece and Bulgaria tighten border controls, and one Turkish official anonymously suggested the country no longer blocks Syrian refugees headed for Europe. "The move would reverse a pledge Turkey made to the EU in 2016 and could draw Western powers into the standoff over Idlib and stalled negotiations between Ankara and Moscow," Al Jazeera reports. Turkey has not given official notice to Europe. The United Nations calls for an immediate ceasefire. – YaleGlobal
Turkey-Syria Tensions Escalate: Al Jazeera
NATO condemns Syria, Russia as Turkey raises death toll from Syrian government air raid on its troops in Idlib to 33; refugees flee to Europe
Linah Alsaafin and Zaheena Rasheed
Friday, February 28, 2020
Read the article from Al Jazeera about the Syrian government's air raids in Idlib.
Linah Alsaafin is an online producer with Al Jazeera English. Zaheena Rasheed is a producer at Al Jazeera English. She was the recipient of Index on Censorship's Freedom of Expression Award in 2017 and a nominee for Reporters Without Borders' Press Freedom Award in 2016.
Also read an article from Al Jazeera about Europe tightening borders to block refugees.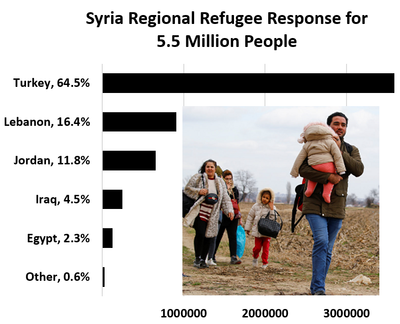 Fleeing war: Syria has more than 6.5 million displaced people, some moving multiple times, with an estimated 500,000 reported to be fleeing the current offensive in Idlib; Syria's neighboring countries already host an additional 5.5 million refugees (Source: Data, Syria Refugee Regional Response, 2020; photo of refugees headed toward Greece in Feb 2020, Huseyin Aldemir, Reuters)
© 2020 Al Jazeera Media Network