UK Collision Course With China: Bloomberg
The United Kingdom stands up to China on multiple fronts even while negotiating Brexit. "Prime Minister Boris Johnson's government has criticized Beijing's planned imposition of a security law on the former British territory of Hong Kong, and is taking steps to exclude Huawei from its fifth-generation mobile networks by lining up potential replacements," reports Alan Crawford for Bloomberg. The UK, a country of 66 million, adopts tougher polices than the European Union, with 440 million. In an op-ed, the prime minister offers refuge for 3 million Hong Kong citizens if China imposes its own national security law for the territory. China could retaliate on the economic front, and two British financial institutions have expressed support for the law. China rejects external interference, maintaining that the UK has no power over its former territory. Britain relinquished control of Hong Kong in 1997, and China had promised a transitiion of "one country, two systems" through 2047. Another lawmaker warns that China's policies on Taiwan could pose greater worry. British officials also express skepticism about China's Huawei supplying parts of the UK 5G network, and the pandemic increases desire for more diversification in that industry, Crawford reports. That stance may influence other countries, including Canada and Germany. – YaleGlobal
UK Collision Course With China: Bloomberg
Brexit cuts the UK loose from Europe on China – government in 5G talks with Huawei rivals and prime minister offers haven for 3 million Hong Kong residents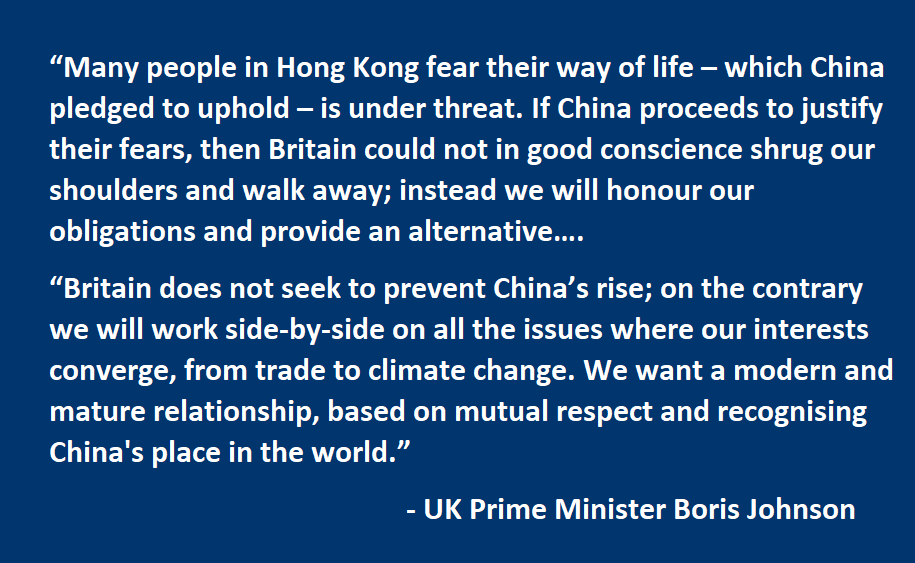 Read the article from Bloomberg about the United Kingdom taking a tough stance on China, seeking diversification for its 5G network and offering a path to citizenship for 3 million Hong Kongers.
Tim Ross, Kitty Donaldson and Thomas Seal assisted with this report.
Read UK Prime Minister Boris Johnson's essay in the South China Morning Post:
"Today, about 350,000 of the territory's people hold British National Overseas passports and another 2.5 million would be eligible to apply for them. At present, these passports allow visa-free access to the United Kingdom for up to six months.
"If China imposes its national security law, the British government will change our immigration rules and allow any holder of these passports from Hong Kong to come to the UK for a renewable period of 12 months and be given further immigration rights, including the right to work, which could place them on a route to citizenship. This would amount to one of the biggest changes in our visa system in British history."
©2020 Bloomberg L.P. All Rights Reserved