US, Turkey Reach "Ceasefire" on Syria: Vox
After the US withdrew troops from Kurdish-held areas in northern Syria, Turkey moved in to take control. Supporters and opponents of the US president lashed out with criticism for abandoning Kurdish allies who fought the Islamic State. A week later the US hastily organized a ceasefire that gives Turkey control over northern Syria. The Kurdish people have five days to leave their homes. The ethnic group makes up about 15 percent of Turkey's population and about 8 percent of Syria's. "The ceasefire, if it holds, should at the very least pause the bloodshed in northern Syria," explains Jen Kirby for Vox. "But it does little to resolve the underlying tensions or reverse the week-long assault on the Syrian Kurds that displaced approximately 300,000 and killed at least 200 civilians, including 18 children." The US promises to remove sanctions and penalties on Turkey if a permanent ceasefire goes into place. "We got what we wanted," said Turkish Foreign Minister Mevlüt Çavuşoğlu. Analysts question if Kurds, who now seek support from the Assad government in Syria and Russia, were consulted. Trump admits that his approach to ending Syria's US presence was "unconventional." A priority for US and Turkish leaders may be simply the appearance of a "win," and their rhetoric suggests dismissal of Kurdish concerns by labeling them as terrorists. Russia could broker a more substantial agreement between Turkey and Syria. – YaleGlobal
US, Turkey Reach "Ceasefire" on Syria: Vox
The US and Turkey announce hasty ceasefire in northern Syria: displacing Kurds, once US allies in fight against ISIS; boosting Russian influence in the region
Read the analysis from Vox about a hastily organized ceasefire between the US and Turkey.
Jen Kirby is foreign and national security reporter for Vox.
Read the article from the New York Daily News about the US president's recent comments on US Kurdish allies.
Read the article from BBC News about where the Kurds live in the Middle East and their desire for autonomy and a homeland.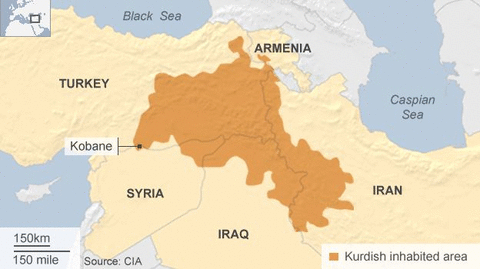 (Source: BBC News)
© 2019 Vox Media, Inc. All Rights Reserved