World Food Security at Risk: UN News
Rising temperatures, linked to pressures on fertile soil, are putting world food security at risk, notes a special report on climate change and land by the UN Intergovernmental Panel on Climate Change. More than 100 authors reviewed research on land. The UN urges sustainable land use and limits on greenhouse gas emissions. Humans impact more than 70 percent of land's ice-free surface, and about 25 percent of land is already degraded. Degraded soil cannot absorb as much carbon as healthy soil. To reverse the damage, humans can avoid food waste, about 30 percent of which is now wasted. They can also expand forests and reduce reliance on energy. People should rely on less meat and more plant-based foods in diets and also turn to plant-based fuels. Climate change is happening and the capacity to adapt is limited, noted researcher. Taking steps early will ease inevitable transitions. – YaleGlobal
World Food Security at Risk: UN News
World food security increasingly at risk due to "unprecedented" climate change impacts that degrade land and soil quality, warns UN report
Read the article from UN News about climate change's impacts on soil quality.
Read about soil health indicators from the Food and Agriculture Organizaiton of the United nations: nutrient availability, workability, oxygen availability for roots, nutrient retention capacity, toxicity salinity and rooting conditions.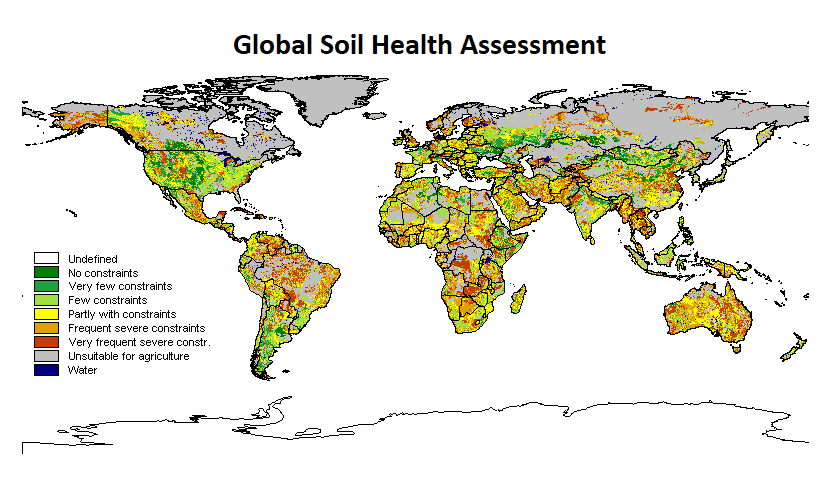 (Source: UN Food and Agriculture Organization)
Copyright © United Nations. All rights reserved.