Bolsonaro's Impact on Global Markets
Brazil's Jair Messias Bolsonaro takes the presidential oath of office on January 1. "Bolsonaro follows a series of public corruption scandals that led to political chaos," explain Claudia Ribeiro P. Nunes and Pedro D. Peralta for YaleGlobal Online. Nunes is a visiting scholar with the Council on Latin American and Iberian Studies with the MacMillan Center at Yale and deputy coordinator of the Graduate Program in Law at Veiga de Almeida University. Peralta is a researcher at Universidad Complutense de Madrid and Veiga de Almeida University. The writers explain that Bolsonaro veers in his positions on trade, urging reforms for the South American bloc Mercosur to promising flexibility, questioning Chinese influence via foreign direct investment during the campaign and later calling China a "great cooperation partner." Another foreign policy concern is Venezuela, Brazil's neighbor to the north in chaos due to mismanagement, corruption and poverty. US President Donald Trump has called for intervention, and the Bolsonaro administration has signaled alignment with the Trump sphere of influence. – YaleGlobal
Bolsonaro's Impact on Global Markets
Brazil's President-elect Bolsonaro may follow Trump's playbook as populist and defy the right-wing agenda in global markets
Claudia Ribeiro P. Nunes and Pedro D. Peralta
Tuesday, November 27, 2018
NEW HAVEN: Weary of corruption, Brazilians elected former Army Captain Jair Messias Bolsonaro from the far-right Social Liberty Party as president. Bolsonaro has claimed to know little about economics and admitted that foreign policy is not a priority. Still, he has at times been adept at taking both sides of any issue in ways that are sure to keep neighbors and trade partners guessing on everything from trade with China or the South American bloc Mercosur to intervention in Venezuela.
Brazil, the world's fifth-largest country by land mass and population, should be an economic powerhouse. The nation is the world's eighth largest economy and Latin America's largest economy – the world's second largest producer of soybeans, the third largest producer of corn and representing Latin America's second largest oil reserves.
Yet inequality is entrenched, and the Brazilian economy struggles in the aftermath of the worst recession on record, with unemployment at 13 percent. Growth resumed in 2017 after a crushing two-year recession, yet activity remains sluggish. The International Monetary Fund estimates that Brazil's economy will grow by just 1.8 percent in 2018, far less than the 6.1 percent pace at the height of the commodities boom. The 2008-2009 global financial crisis barely nicked Brazil's effervescent economy, thanks to cheap credit, the discovery of new oil reserves and a commodities boom.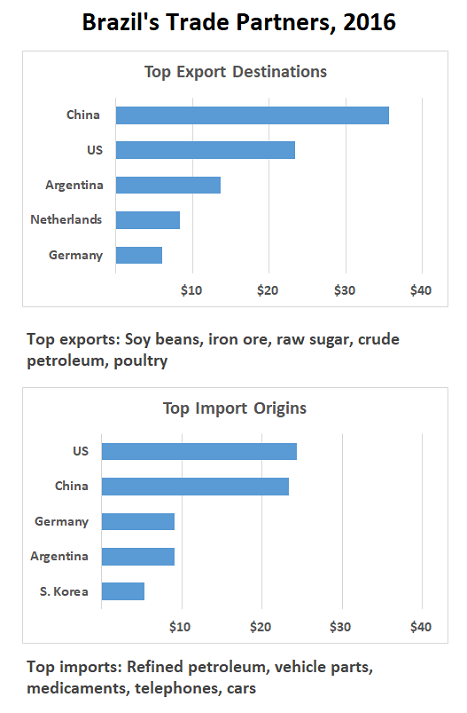 Bolsonaro follows a series of public corruption scandals that led to political chaos. Former President Luiz Inácio Lula da Silva of the socialist Workers' Party, president from 2003 to 2011, still faces multiple judicial trials on corruption charges. Dilma Rousseff, his successor from 2011 to 2016, continued his leftist populist agenda before being impeached and removed from office during her second term for alleged budgetary misconduct, including vote buying during the economic downturn precipitated by crashing commodity prices soon after she entered office. Vice President Michel Temer, a market-oriented centrist who assumed the presidency, was unpopular and also tainted by allegations of corruption.
More than a dozen candidates competed for the post, and the bitter and polarized campaign that included an assassination attempt on Bolsonaro produced no outright winner in the first round in early October. Bolsonaro won the October 28 runoff election, defeating leftist opponent Fernando Haddad of the Worker`s Party, the same party of former President Lula.
Multiple international issues are at stake with Bolsonaro's stated intention to transfer the foreign ministry's trade negotiating powers to an economic team. Bolsonaro has proposed appointing Paulo Guedes, a liberal economist trained at the University of Chicago, to lead the Economy Super Ministry – also incorporating finance, planning, the budget as well as the industry and trade ministries. Markets have calmed, anticipating implementation of liberal ideas emphasizing privatization, reduced public spending and tax cuts.
Bolsonaro, with his positions on trade, tends to take sharp turns back and forth. During the presidential campaign, he repeatedly attacked the trade strategy of the Workers' Party as protectionist, ideologically and strongly biased against the West. Yet in 2017, he blasted a bilateral trade deal with Ecuador on bananas and other commodities for not protecting Brazilian producers.
More importantly, Bolsonaro has suggested that he would consider an overhaul of the South American trade bloc Mercosur, which also includes Argentina, Uruguay and Paraguay – after criticizing the group for failing to clinch meaningful trade deals despite attempts to negotiate an agreement with the European Union for more than a decade. Guedes likewise expressed negative opinions about Mercosur, before calling for strengthening free trade agreements while promising full respect for existing principles ruling the bloc, with the goal of returning to its original mission of fostering market exchanges while reducing trade barriers among the signatory countries.
Most recently, the new economic team proposes allowing Mercosur members more flexibility to negotiate trade deals outside the customs union. Another proposal aims to reduce the group's common external tariffs as a way of pressuring companies to become more competitive – not at all like Donald Trump's position on the North American Free Trade Agreement among the United States, Canada and Mexico. Rather than defend and protect local industry, the Bolsonaro plan is to open businesses to more competition, encouraging productivity and lower prices.
In particular, Bolsonaro repeatedly criticized China, part of his anti-communist rhetoric, even though the country has been Brazil's largest trading partner for about a decade. In April, candidate Bolsonaro needled China with a stop in Taiwan during a trip to East Asia. The Chinese embassy sent a letter of protest to the Bolsonaro campaign.
In 2018, Brazil's exports to China are expected to reach $47 billion, about twice the value of the nation's trade with the United States. Since 2017, Chinese investment in Brazil has grown to $20 billion, much of it in high value-added goods, compensated with public procurements and concessions associated with mining and other natural resources. Since 2010, nearly all Chinese direct investment in Brazil is channeled through enterprises resident in intermediary countries.
Bolsonaro cannot afford to pursue the US path, directing protectionist policies toward China, and risk losing Brazil's key trading partner, advise political scientists on the transition team. The new government may reconsider any actions that lead to confrontation with China, and Bolsonaro has already backtracked. On November 5, he described China as a "great cooperation partner" during a meeting with China's Ambassador to Brazil Li Jinzhang. He also said that he welcomes new Chinese investment and bilateral trade.
The BRICS grouping created in 2006 reinforced Brazil's identity as a rising power of political influence. The group – also including Russia, India, China and South Africa – became a catalyst for stronger trade relations and a political platform for emerging powers to push for a more multipolar world. BRICS also offered Brazil a safe space where it could negotiate with China as diplomatic equals.
Leaders of BRICS nations enjoy the attention from world media and analysts, regardless of the threat posed to far-right agendas. Of course, BRICS survived the 2014 election of Indian Prime Minister Narendra Modi, who likewise entered office with right-wing views, described even as neo-fascist by some. The BRICS New Development Bank had planned to launch its Americas Regional Office in Brazil, but the election may put that plan on hold.
Another sensitive issue close to home is Brazil's relationship with Venezuela. The US president has called for the direct intervention, and Brazil and Colombia are now in right-wing hands. Venezuela's poverty due to corruption, mismanagement, overspending and price controls poses threat to both countries with mounting instability and immigration along the border areas.
The new administration has already aligned itself in the Trump sphere of influence. Ernesto Henrique Fraga Araújo, current head of Brazil's Department for US, Canada and Inter-American Affairs, has been designated the next minister of Foreign Affairs. In 2017, he published an article touting the nationalist and protectionist vision backed by Trump – such thinking known as "Trumpista" in Brazil.
Changes are inevitable for Brazil. Nevertheless, the election results and Bolsonaro's administrative choices may impose some constraints.
Claudia Ribeiro P. Nunes is a visiting scholar with the Council on Latin American and Iberian Studies with the MacMillan Center at Yale. She is also deputy coordinator of the Graduate Program in Law at Veiga de Almeida University. She is also was awarded the title of Ambassador of the Culture of Peace and Justice and the Sérgio Vieira de Mello Medal by the International Council of Honor and Merits in October.
Pedro D. Peralta is a researcher at Universidad Complutense de Madrid and Veiga de Almeida University. He was awarded the university's Mario Veiga de Almeida Medal and also the Motion of Praise and Recognition for services to defend peace and humanitarian causes by the House of Representatives of Rio de Janeiro Municipality in May.
© 2018 YaleGlobal and the MacMillan Center