Internationalizing the Kashmir Issue: Hindu Times
A small group of EU members of parliament, mostly representing right-wing, anti-immigrant and anti-trade interests, visited Kashmir. Other MPs pointed out they were disinvited after insisting upon meeting ordinary people of Kashmir and opposing the tight restrictions imposed by the Modi government that would prevent hearing opposition voices. Violence broke out in Kashmir during that visit, suggesting that all is not well as the government insists. After a restricted guided tour, MPS came away expressing regret about controls over whom they met. Several urged dialogue between Pakistan and India, suggesting that Europe could help mediate. "Whilst India as a democracy should welcome anyone who wants to visit Kashmir, has this visit internationalised the State to the country's disadvantage?" writes Karan Thapar for the Hindu Times. "It happened at a time when Indian MPs, foreign journalists and Delhi-based diplomats are not permitted to visit the Valley. This is not unknown outside India. One of the MPs, Nicolaus Fest, said opposition MPs should be permitted." India struggles in giving rationales for its policies on Kashmir to the international community. – YaleGlobal
Internationalizing the Kashmir Issue: Hindu Times
International help on Kashmir may be required: After visit by MPs of European Union to Kashmir, India's rejection of mediation might seem contradictory
Read the article from the Hindu Times about international concern about India's policies in Kashmir.
Karan Thapar is a television anchor
Read an article from the Guardian about India's formally taking control over Kashmir: "Delhi has formally revoked the disputed state of Jammu and Kashmir's constitutional autonomy and split it into two federal territories in an attempt to integrate it fully into India. The decision of the prime minister, Narendra Modi, to change Kashmir's status and tighten the government's grip over the region in August has stoked anger and resentment while a three-decade armed revolt rages."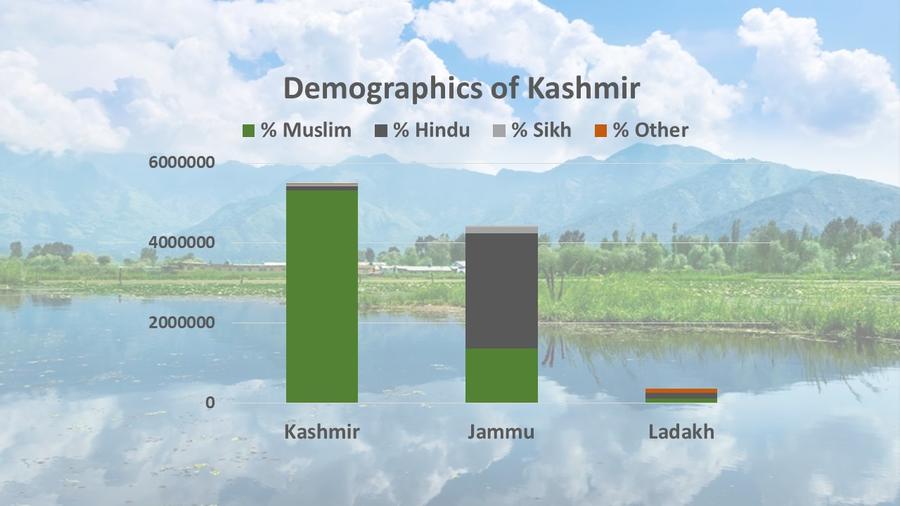 Demographics: India is 80 percent Hindu, 13 percent Muslim, about 2 percent each for Christians and Sikhs, and less than 2 percent for other religious preferences - Kashmir is a Muslim-majority area (Source: data, 2002 Census of India; photo, Kreativeart)
Copyright© 2019, THG PUBLISHING PVT LTD.