Kangaroos Killed for Pet Food Exports: DW
The kangaroo is an iconic symbol of Australia, and the government issues licenses to hunters to cull herds and sell meat. The annual hunts divide Australia. Greg Keightley volunteered for a wildlife NGO and documented some hunts. The government and meat companies urge shooters to fire at animals' heads, but kangaroos are not easy targets. Some hunters wound kangaroos, cutting off their legs to keep them alive and save refrigeration costs, according to Deutsche Welle. Kneightley "says this is so the animals arrive at their destination as fresh meat," reports Georgina Kenyon. "Because they are taken to plants where they are processed for their leather and flesh – sometimes for human consumption but largely for pet food exports." About 3000 tons of kangaroo meat are exported each year, most to be used as pet food. Australia suffers from record temperatures, drought and bushfires, and farmers want to preserve grasslands for sheep and cattle. Australia has loosened regulations, and animals often suffer for problems caused by humans. – YaleGlobal
Kangaroos Killed for Pet Food Exports: DW
Environmentalists oppose the Australian government allowing brutal slaughter of kangaroos for pet food
Monday, December 23, 2019
Read the article from Deutsche Welle about how kangaroo hunts divide Australians.
Major firms outline expectations for suppliers to abide by a code of conduct along with management plans, population monitoring and permit tags: "Kangaroo meat is the most sustainable, lean and delicious meat that Australia produces…. Sustainable harvesting and ethical sourcing are key principles which underpin the kangaroo industry."
The Australian government maintains an archive on kangaroo and wallaby commercial harvests, but discontinued releasing totals in 2010. 

Utilitarian: Australia relies on kangaroos to attract tourists and allows for commercial harvests (Source: Australia.com)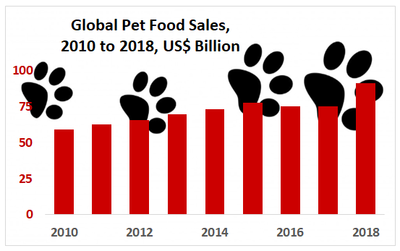 Steady climb: Global pet food sales totaled $91 billion in 2018 (Source: Statista)