Refugee Crisis for EU: Financial Times
EU foreign ministers tried calling a meeting, at Greece's request, to address a new wave of Syrian refugees after conflict has intensified in Syria's province of Idlib. Turkey has indicated it would no longer restrict refugees from reaching Europe. Turkey's president suggest the policy is due to the lack of international support for refugees. "European countries have resisted Russian pressure to normalise relations with the Assad regime in Syria and release large-scale reconstruction funds, although Hungary has upgraded its diplomatic presence in Damascus," the article from Financial Times reports. Turkey shelters about 4 million refugees, preventing them from heading to the EU in exchange for EU funding. This deal reduced the number of migrant arrivals to Europe from 1 million in 2015 to fewer than 125,000 in 2019. Greece and Bulgaria, neighbors of Turkey, are calling up security forces and applying maximum border deterrence to prevent massive refugee arrivals. Another article suggests that Turkish officials express more anger with Greece than Bulgaria. EURACTIV reports that Bulgaria's prime minister failed to organize a summit, but received commitment from Turkey's president to prevent migrants from heading to Bulgaria. – YaleGlobal
Refugee Crisis for EU: Financial Times
Europe strives to address new wave of refugees from Syria and preserve deal with Turkey after the latter announces plan to "open gates" for 4 million refugees
Jim Brunsden and Michael Peel
Read the article from the Financial Times about EU efforts to address the ongoing Syrian refugee crisis.
Jim Brunsden and Michael Peel are EU correspondents for the Financial Times.
Also read the article from EURACTIV about failed attempts to organize the summit: "[Turkish President Recip Tayyip Erdoğan accused the EU of having 'double standards' and failing to comply with its commitments to Turkey on the migrant issue. The EU has previously dismissed such accusations as unfounded. It has financed the support of refugees on Turkish territory since 2016 with €6 billion."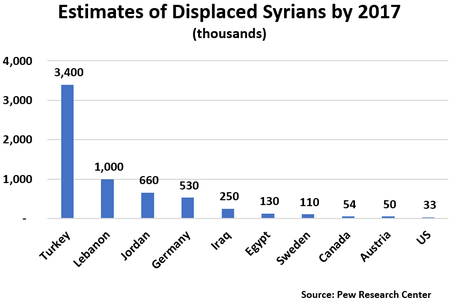 (Source: Pew Research Center)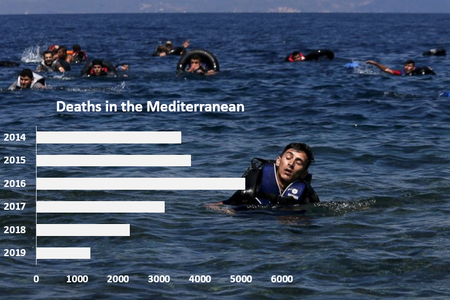 Deaths in the Mediterranean include refugees fleeing war in Syria (Source: Data, Operation Portal, Mediterranean Situation, UNHCR; photo, Reuters)
Copyright The Financial Times Limited 2020. All rights reserved.