Saudi Arabia's Succession Plan Roils Middle East
Saudi Arabia – along with Bahrain, the UAE and Egypt – abruptly broke off diplomatic and economic ties with Qatar, then followed that up with an ultimatum and a 10-day deadline to respond. The first of 13 unreasonable demands targets Iran, Saudi Arabia's key rival in the region by urging Qatar to curb diplomatic ties with Iran and close its diplomatic missions. Author Dilip Hiro reviews a history of antagonism between two monarchies as Saudi Arabia resists Qatar's incremental steps toward freedom expression with an elected parliament, funding of Al Jazeera renowned for investigative journalism in the Arab world, and efforts to maintain Sunni-Shia ties by maintaining good relations with Iran. The US has a major base in Qatar, and its divided response does not help: The president throws full support behind Saudi Arabia, and diplomats and military leaders urge mediation. The Saudi king has approved a new line of succession, selecting a 31-year-old son as crown prince. Prince Muhammad bin Salman has a track record of endorsing aggressive moves against Iran, Yemen and now Qatar, and the expectation that other Arab nations will fall in line introduces more instability into a region that is already so volatile and violent. – YaleGlobal
Saudi Arabia's Succession Plan Roils Middle East
Qatar's embrace of freedom of expression and good ties with Shias threatens Saudi Arabia

LONDON: Two weeks after US President Donald Trump's trip to Riyadh and his address to a gathering of 50 leaders of Arab and other Muslim states, a diplomatic earthquake struck the oil-rich Persian Gulf region, and aftershocks could reach far beyond the region. In an unexpected move, Saudi Arabia, Bahrain, the United Arab Emirates and Egypt not only broke diplomatic and economic ties with the tiny emirate of Qatar, but also presented a set of demands challenging its sovereign status.  
Worsening the crisis are contradictory responses from the US president and his secretaries of state and defense. The president enthusiastically backs the Saudi kingdom, and senior officials have offered to mediate between Riyadh and Doha.
In the midst of this turmoil, 81-year-old Saudi King Salman bin Abdul Aziz Al Saud elbowed out Muhammad bin Nayef.as crown prince and elevated his favorite son, Muhammad. As defense minister for more than two years, Prince Muhammad bin Salman, 31, has become known for initiating aggressive policies towards Iran and war-ridden Yemen.
The primary target for the Saudi-led anti-Qatari axis is Iran. Tellingly, the 13-point ultimatum to Qatar is topped by the demand, "Curb diplomatic ties with Iran and close its diplomatic missions." Aside from sectarian differences between Sunni Saudi Arabia and Shia Iran, the bone of contention is the ongoing civil war in Yemen. Claiming that the Shia Houthi rebels in Yemen are puppets of Iran, Prince Muhammad as defense minister led an air blitzkrieg against the Houthis in Yemen in March 2015. Contrary to his boast that this military move would lead to success within months, Yemen has turned into a quagmire for Saudi Arabia, reportedly draining Riyadh's treasury by $6 billion a month.
The third demand for Doha reads, "Shut down Al Jazeera and its affiliate stations."  Al Jazeera TV unnerves Saudi Arabia and other autocratic Arab monarchies. Broadcasting in Arabic and English, the channel is available in 100 countries, giving Qatar a profile far beyond the Arab world.
Al Jazeera was the brain-child of Qatari Emir Hamad bin Khalifa Al Thani after he seized power in June 1995 in a bloodless coup while his father, Emir Khalifa Al Thani, was in Switzerland. In a concerted move, Emir Hamad abolished the ministry of information, eased media censorship and allocated $140 million over the next five years for an independent 24-hour satellite TV news channel. Al Jazeera, or the Peninsula, started broadcasting in Arabic in November 1996, with its English channel going on air 10 years later.
From the start, its reporting staff consisted almost wholly of BBC-trained journalists who had lost their jobs seven months earlier. This happened after a Saudi prince became enraged by the BBC's interviews with London-based Saudi dissident Muhammad al Massari and its documentary on capital punishment in the kingdom. Rome-based Orbit TV, owned by the prince, cancelled its contract to produce news in Arabic for the BBC.
Al Jazeera smashed the Middle Eastern mold of television news tied to local information and intelligence agencies. Two weekly discussion programs The Opposite Direction and The Other Opinion debated controversial subjects including religion and politics, Arab relations with Israel, and the role of monarchs in the Arab world. In 2000 the US State Department applauded Al Jazeera as a beacon of free speech. Within a week of the 9/11 attacks on New York City and the Pentagon, Al Jazeera interviewed US Secretary of State Colin Powell. Later, as the only foreign television channel allowed by the Taliban in Afghanistan, it broadcast showed inter alia US bombing of the Red Cross warehouse in Kabul. On 14 November 2001 American warplanes hit its bureau in a residential area next to a mosque. During the Anglo-American invasion of Iraq in 2003, Al Jazeera broadcast footage contradicting censored news released by the US-led coalition. During the Arab Spring uprisings in 2011, Al Jazeera was the prime source of reliable news.
The soaring popularity of Al Jazeera led several Arab governments to allow more leeway to state-controlled or -guided media in their countries. Nonetheless, Al Jazeera remained a thorn for authoritarian regimes, particularly in Egypt and Saudi Arabia. The most powerful Arab states have more to hide than others.
The list of Saudi-led demands challenges sovereignty, not just of Qatar, but also Turkey. High on the list was "Immediately terminate the Turkish military presence in Qatar and end any joint military cooperation with Turkey inside Qatar." Turkish Defense Minister Fikri Isik described the ultimatum as unacceptable interference in Ankara's relations with Doha.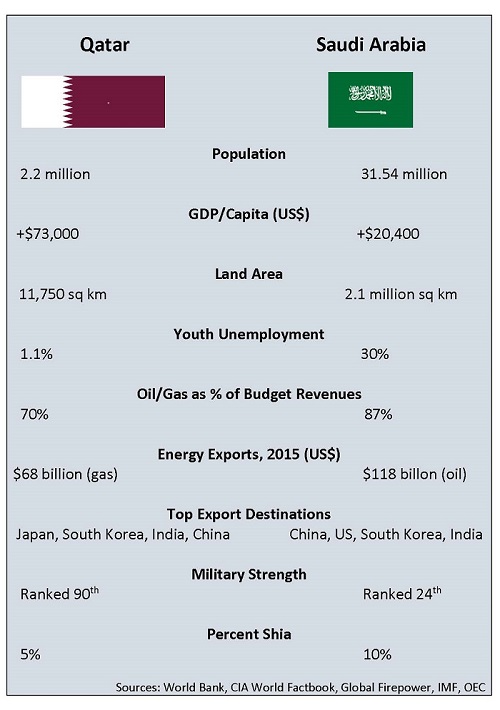 By moving against Qatar, a Sunni emirate, Bin Salman undermined the success he had in gathering leaders to Riyadh in May to hear Trump speak on countering radical Islamist terrorism.
While Turkey has lined up with Qatar, most Muslim countries have remained neutral. Indonesia, the most populous Muslim nation, called for dialogue between Riyadh and Doha to defuse the crisis. So has Pakistan despite the fact that Prime Minister Nawaz Sharif has maintained close relations with Saudi royals for many years.
Even within the six-member Gulf Cooperation Council, GCC, Kuwait and Oman have stayed out of the fray. Kuwait has done so because 30 percent of its 1.23 million citizens are Shia. Another reason is an elected parliament since 1962 in which public opinion is expressed. Contrary is the case in Saudi Arabia where only about 12 percent of its citizens are Shia and a toothless, advisory Consultative Council, established in 1993, is nominated fully by the monarch.  And Bahrain, a member of the anti-Qatari axis, is 70 percent Shia with a Sunni ruler.
Oman cannot afford to alienate its large neighbor to the east, given that its territorial waters overlap those of Iran in the strategic Straits of Hormuz. Oman's ruler, Sultan Qaboos, offered to play a mediating role between US and Iranian officials to resolve Tehran's nuclear issue so long that was kept secret. The Omani capital of Muscat became the site of a series of ultra-secret negotiations leading to the interim agreement between Iran and six world powers in November 2013, a preamble to the final deal in July 2015.
Among the list of the organizations, described by the anti-Qatari axis as terrorists, the largest and most influential is the transnational Muslim Brotherhood. So far, the United States has not declared the Brotherhood a terrorist group, but the Trump administration debates the subject.
Trump accused Qatar on 10 June of being a "funder of terror at a very high level," demanding a cutoff of that cash flow to rejoin the circle of responsible nations. Soon afterward, the US ambassador in Doha, Dana Shell Smith, retweeted a statement from the US Treasury Department praising Qatar for cracking down on extremist financing. Now Doha has expressed its readiness to sign on to fresh proposals being drafted by the Treasury Department to strengthen controls against financing of militant groups.
Determined to stay calm and reasonable, 37-year-old Qatari Emir Tamim bin Hamad Al Thani sent a cable of congratulations to Saudi King Salman, "on the occasion of the selection of his royal highness Prince Muhammad bin Salman Al Saud as Crown Prince," expressing hope for "brotherly relations between the two brotherly countries" – a message reported by state-run Qatar News Agency and posted on social media.
Turkey and Iran have moved swiftly to supply food to Qatar facing the Saudi-led embargo. As the host to the 10,000 American troops and 100 warplanes at Al-Udeid Air Base, 25 miles southwest of Doha, Qatar is essential to Washington's war against the Islamic State and possesses powerful leverage. The chances of Qatar yielding to the Saudi-led demands, including severing relations with Iran and Turkey, are at best slim. All that can be said for now is that the newly elevated crown prince could further destabilize an already violent and crisis-ridden Middle East. 
Dilip Hiro is the author of A Comprehensive Dictionary of the Middle East (Interlink Publishing Group, Northampton, MA). Read an excerpt. His latest and 36th book is The Age of Aspiration: Power, Wealth, and Conflict in Globalizing India (The New Press, New York). Read an excerpt.
Copyright © 2017 YaleGlobal and the MacMillan Center