US and EU Argue on Carbon Tax: Financial Times
The European Union's new tax plan on carbon imports may exacerbate transatlantic tensions. The Green Deal plan comes at the heels of France delaying imposition of a digital services tax, resisted by the Trump administration. According to Wilbur Ross, US commerce secretary, the United States could retaliate with tariffs if it finds the new carbon tax stems from trade protectionism. From the EU perspective, this new plan, as led by European Commission President Ursula von der Leyen, aims to tackle climate change. "There is no point in only reducing greenhouse gas emissions at home, if we increase the import of CO2 from abroad," she said, reports the Financial Times. The EU and the US disagree on global climate policies and there may be mutual misunderstandings on the carbon tax. The EU is hoping to reduce the carbon import from abroad and unfair competition from countries with lax standards, including China, Russia and India. However, the EU's stance may soften, with gradual imposition on highly polluting sectors and collaboration with foreign companies. Even so, the United States has expressed reluctance for global engagement and rules, and that incudes withdrawal from the Paris climate agreement and loosened pollution regulations and standards at home. – YaleGlobal
US and EU Argue on Carbon Tax: Financial Times
The US and EU prepare for another argument over a carbon tax – and the US threatens retaliation if it determines the EU Green Deal is protectionist
Gillian Tett, Chris Giles and James Politi
Thursday, January 30, 2020
Read the article from the Financial Times about the European Commission's plans for a carbon tax.
Gillian Tett is chair of the editorial board and editor-at-large, US of the Financial Times. She writes weekly columns, covering a range of economic, financial, political and social issues.
Chris Giles became economics editor for the Financial Times in October 2004, having previously served as a leader writer. His reporting beat covers global and UK economic affairs and he writes a UK economics column fortnightly.
James Politi is the World Trade Editor for the Financial Times in DC. In this role, Politi covers international trade, US trade policy, globalization, the IMF and the World Bank.
Europe strives to be the first climate-neutral continent by 2050 and the European Commission plans a European Green Deal:
increase the EU's greenhouse gas emission reductions target for 2030 to at least 50%
enact a carbon border adjustment mechanism for selected sectors
ensure that imports accurately reflect carbon content
involve and benefit consumers in clean energy transition
pursue smart infrastructure in transition
expand sustainable and job-intensive economic activity
modernize with a new circular economy action plan
encourage businesses and consumers to rely on reusable, durable, repairable products
ramp up production and deployment of sustainable alternative fuels
reduce use and risk of chemical pesticides and fertilizers
reduce pressure on EU forest ecosystems
prevent pollution and restore functions of ground and surface water
assist with training and support through a Just Transition Fund
identify credible sustainable investments
design tax reform to boost economic growth and build resilience
encourage data-driven innovation
work for green alliances with foreign partners
set standards across value chains
The global challenges of climate change and environmental degradation require a global response.
The EU also recognizes that the global climate and environmental challenges are a source of instability.
Read more about the European Green Deal.
Many countries in Europe already impose a carbon tax.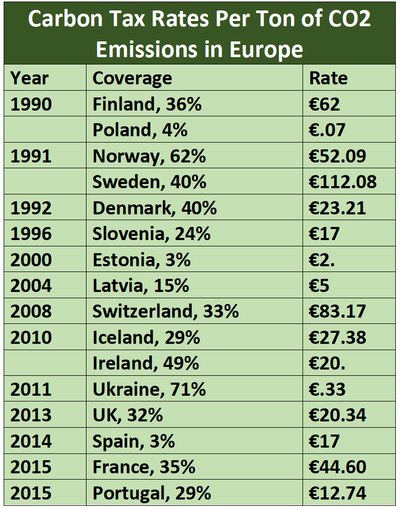 (Source: Tax Foundation, 2019)
Copyright The Financial Times Limited 2020. All rights reserved.