Who Is Caring for "Invisible" Carers? Rappler
The COVID-19 pandemic exposes devastating inequality. More than half of all workers hold jobs that cannot be done remote from home. Even in wealthy countries like the United States, half of the residents lack savings to manage an unexpected $500 expense. "While it is true that anyone can be exposed, not everyone has the means to protect themselves, the opportunity to practice social distancing because of living and work arrangements, or the ability to cope financially and socially in the immediate and long-term," explains Vin Aranas for Rappler. "Just like in any crisis, it is always the poorest, marginalized, and most vulnerable people who suffer the most, especially women and girls." About 70 percent of world health providers are women, reports the World Health Organization. A shortage of protective equipment and tests adds challenges. At the same time, women carry the burden of unpaid care of children, elderly parents and the disabled. Such work contributes to economies yet is taken for granted and goes unrecognized. Aranas urges participation of the marginalized in decision-making and policymaking. While funds are low, yet governments can craft flexible policies including flexible work arrangements. People will not forget which leaders supported the vulnerable during this crisis and crafted innovative responses. – YaleGlobal
Who Is Caring for "Invisible" Carers? Rappler
Governments must consider pro-poor and pro-women approaches to address the COVID-19 pandemic – a health, poverty and inequality crisis
Read the article from Rappler economic inequality and caregiving.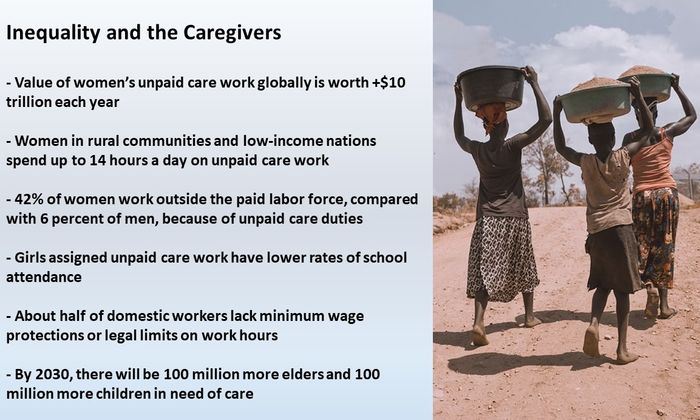 A fairer world is possible: "This world would be one where everyone has secure jobs paying decent wages, where nobody lives in fear of the cost of falling sick, and where every child has the chance to fulfil their potential. In this world, our economy would thrive within the limits of our planet, handing a better world to every new generation." Time to Care, Oxfam
Content published on Rappler is either their property or the property of those allowed Rappler to use and publish their works.