World Watches Moves by India: Frontline
Global leaders are speaking out about India's unilateral action ending semi-autonomous status for Jammu and Kashmir. The European Parliament has tabled a resolution criticizing the move until March, giving time for India's courts to offer a resolution, and a US congressional panel is reviewing reports on Kashmir. In addition, six resolutions, also tabled, have criticized the Citizenship Amendment Act that excludes Muslims in granting citizenship to people from neighboring states. "Parliamentarians across the globe have independently voiced concern over Kashmir, an indication of the Narendra Modi government's failure to cobble up support for India in diplomatic backchannels," writes Anando Bhakto for Frontline. "One of the resolutions calls on both India and Pakistan to implement the recommendations of the United Nations Refugee Agency report on Kashmir, which had advocated an 'urgent repeal of the AFSPA [Armed Forces Special Powers Act]' and called for 'independent, impartial and credible investigations to probe all civilian killings since July 2016 and all abuses committed by armed groups.'" Bhakto suggests that the EU and the US are cautious with criticism to avoid disrupting trade plans. – YaleGlobal
World Watches Moves by India: Frontline
EU resolutions indicate growing international concern about India's Citizenship Amendment Act and the unilateral actions in semi-autonomy for Kashmir
Tuesday, February 18, 2020
Read the article from Frontline about scrutiny of Indian policies by the EU and the US.
Anando Bhakto, special correspondent, reports on Kashmir and politics in the Hindi heartland. He has a special interest in covering human rights issues in Kashmir.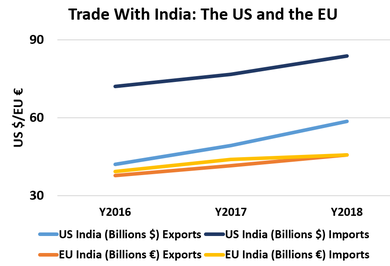 (Source: Office of the US Trade Representative and Eurostat)
Copyright © 2020, THG PUBLISHING PVT LTD.