India Challenges China's Belt-Road Intentions
China insists that its One Belt, One Road initiative stretching along three continents will benefit the entire world with $1 trillion in infrastructure improvements. But some countries harbor doubts. Businesses and governments in the West express concern that the massive trade and infrastructure initiative is more bilateral than multilateral, and "India, an emerging economy that shares a contested border with China, worries about containment and new pathways for aggression from Pakistan," explains Harsh V Pant, professor of international relations, King's College London. Also, "the Maritime Silk Road reinforces New Delhi's concerns about encirclement. Beijing's port development projects in the Indian Ocean open the possibility of dual-use facilities, complicating India's security calculus." The land and maritime routes, as envisioned by Chinese President Xi Jinping, will link about 65 countries that encompass about 40 percent of global GDP. Plans should emphasize transparency and multilateral cooperation, Pant concludes, or China could confront more opposition. – YaleGlobal
India Challenges China's Belt-Road Intentions
Without multilateral cooperation, plans for China's ambitious One Belt, One Road initiative risk opposition
LONDON: China's Belt and Road Forum, hosted with great fanfare, signals the priority of this flagship connectivity initiative while also underlining its credentials as the new "shaper" of global trends and norms. Exhorting all countries to participate, Chinese President Xi Jinping suggested that "what we hope to create is a big family of harmonious co-existence."
But India, an emerging economy that shares a contested border with China, worries about containment and new pathways for aggression from Pakistan. Other nations wonder if hegemonistic designs are hidden behind the rationality of connectivity and trade. The policy initiative aims to enhance China's centrality in the global economic unilateral approach in how the project is conceived and implemented so far belies the rhetoric of multilateralism emanating from Beijing.
Taking inspiration from the ancient Silk Road trading route, China's One Belt One Road initiative, or OBOR, hopes to link more than 65 countries, encompassing up to 40 percent of global GDP. Xi's signature foreign paradigm – linking China to Asia, Europe and Africa via an ambitious network of ports, roads, rail and other infrastructure projects. Beginning in China's Fujian province, the projected Maritime Silk Route passes through the Malacca Strait to the Indian Ocean, moving along the Red Sea and the Mediterranean, ending in Venice.
The scale and scope of OBOR is huge, with at least $1 trillion in investments. At the Shanghai summit, Xi announced an additional $124 billion in funding for OBOR, including $8.7 billion in assistance to developing countries. China, desperate to deflect criticism that OBOR is primarily an instrument for Chinese expansionism, managed to convince heads of 29 states and governments to participate in the summit, including Turkish President Recep Tayyip Erdoğan, Italian Prime Minister Paolo Gentiloni, Russian President Vladimir Putin and United Nations chief Antonio Guterres. Most western leaders sent representatives.
The West views this as a Chinese bilateral project being touted a multilateral venture. The outgoing president of the EU Chamber of Commerce in China complains that the OBOR has "been hijacked by Chinese companies, which have used it as an excuse to evade capital controls, smuggling money out of the country by disguising it as international investments and partnerships."
The rest of the world is more receptive. Lavishing praise on China for the OBOR initiative while targeting the US, Putin warned at the summit that "protectionism is becoming the new normal," adding that the "ideas of openness and free trade are increasingly often being rejected (even) by those who until very recently expounded them."
South Asia also welcomes OBOR, and most of India's neighbors attended. India refused to participate, maintaining opposition to China's investment in the China-Pakistan Economic Corridor, or CPEC, which passes through Pakistan-occupied Kashmir. India, boycotting the event, announced in an official statement: "No country can accept a project that ignores its core concerns on sovereignty and territorial integrity." Indian Foreign Secretary S Jaishankar articulated this position at the 2017 Raisina Dialogue: "China is very sensitive about its sovereignty. The economic corridor passes through an illegal territory, an area that we call Pak-occupied Kashmir. You can imagine India's reaction at the fact that such a project has been initiated without consulting us." Prime Minister Narendra Modi reinforced this point, asserting that "connectivity in itself cannot override or undermine the sovereignty of other nations."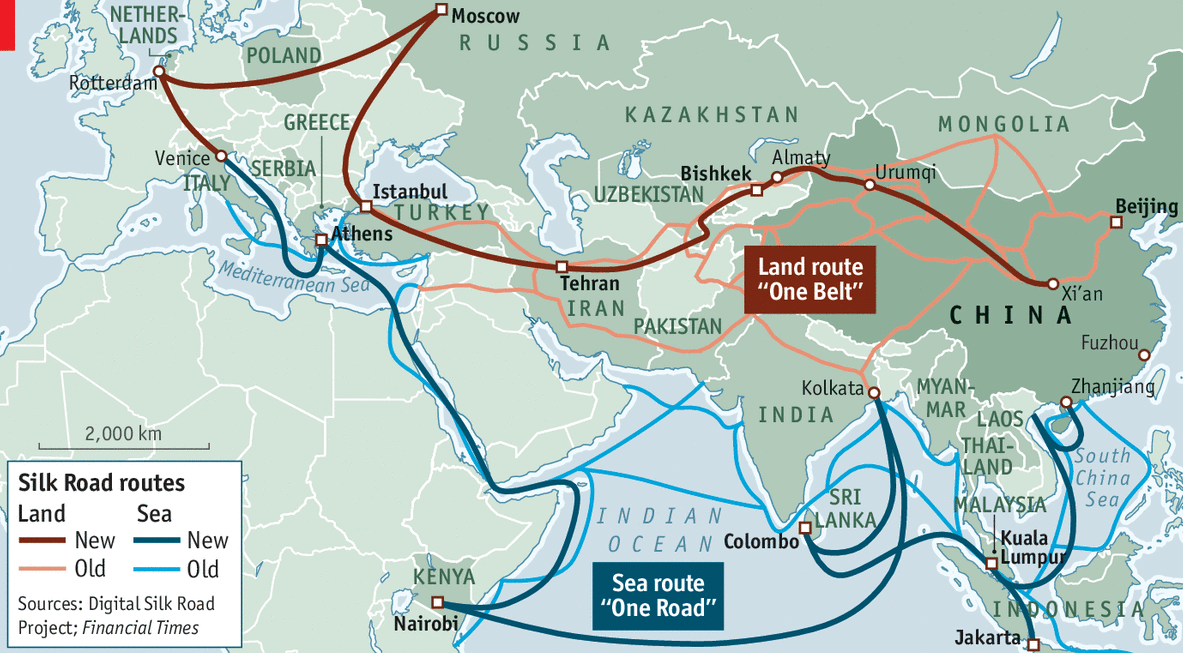 The advantages for India of joining China's multibillion dollar OBOR initiative are apparent, and the economic logic is compelling. With bilateral trade of $70.08 billion in 2016, China remains India's largest trading partner. Last year also saw record Chinese investments into India reaching close to $1 billion. Compared to this, China's economic ties with Pakistan remain underwhelming with bilateral trade volume reaching $13.77 billion last year.  
Yet against the backdrop of deteriorating Sino-Indian ties, India cannot feasibly join the OBOR project without challenging the very foundations of its foreign policy. The $55 billion CPEC would link China's Muslim-dominated Xinjiang Province to the Gwadar deep-sea port in Pakistan. Despite the rhetoric, Beijing's priority in pumping huge sums into a highly volatile Pakistani territory is not to provide economic relief for Pakistan's struggling economy or to promote regional economic cooperation.
The development may not subdue restive Muslims in either country. The challenges are huge as underscored by the related militarization. Pakistan has deployed more than 15,000 troops to protect the CPEC, and is raising a naval contingent for protection of Gwadar; China will also station part of its growing naval forces at Gwadar. Concerns are already being expressed that Pakistan could become a Chinese colony once the corridor is operationalized. For the Chinese, security in the province of Balochistan is the biggest concern. Economic conditions in Balochistan remain dire with over two-thirds of its inhabitants living in poverty, and local opposition to the project is mounting by the day. Baloch separatists, especially those from the Baloch Liberation Army, are reported to have abducted and killed foreigners, particularly the Chinese. Such turmoil could have regional consequences.
The long-term strategic consequences of OBOR for India could also allow China to consolidate its presence in the Indian Ocean at India's expense. Indian critics contend that China may use its economic power to increase its geopolitical leverage and, in doing so, intensify security concerns for India. CPEC gives China a foothold in the western Indian Ocean with the Gwadar port, located near the strategic Strait of Hormuz, where Chinese warships and a submarine have surfaced. Access here allows China greater potential to control maritime trade in that part of the world – a vulnerable point for India, which sources more than 60 percent of its oil supplies from the Middle East. What's more, if CPEC does resolve China's "Malacca dilemma" – its over-reliance on the Malacca Straits for the transport of its energy resources – this gives Asia's largest economy greater operational space to pursue unilateral interests in maritime matters to the detriment of freedom of navigation and trade-energy security of several states in the Indian Ocean region, including India.
More generally, the Maritime Silk Road reinforces New Delhi's concerns about encirclement. Beijing's port development projects in the Indian Ocean open the possibility of dual-use facilities, complicating India's security calculus.
India has its own set of connectivity initiatives such as Myanmar's Kaladan project, the Chabahar port project with Iran, as well as the north-south corridor with Russia which could be potentially leveraged. The proposed 7200-kilometer International North South Transportation Corridor is a ship, rail and road transportation system connecting the Indian Ocean and Persian Gulf to the Caspian Sea via Iran to Russia and North Europe. The Indian and Japanese governments are working on a "vision document" for developing an Asia-Africa Growth Corridor largely meant to propel growth and investment in Africa, in part a response to China's ever-growing presence on the continent.
The Belt and Road Initiative is a highly ambitious undertaking in line with China's aspirations to emerge as the central economic power at a time when the United States makes plans to step back from global affairs. Its success depends on China's ability to move beyond the bilateral framework and allowing a truly multilateral vision for the project to evolve. Otherwise, China can expect to contend with opposition from more countries than India. 
Harsh V Pant is a Distinguished Fellow at Observer Research Foundation, New Delhi, and professor of international relations, King's College London.
Copyright © 2017 YaleGlobal and the MacMillan Center